Professor Corrie Bakels receives 50th Analecta
Corrie Bakels would have given this year's Kroon lecture on Friday March 20, but the event was canceled due to the coronavirus outbreak. Her colleagues had planned to present to her the 50th edition of the Analecta journal on this festive occassion, so these plans had to be changed as well.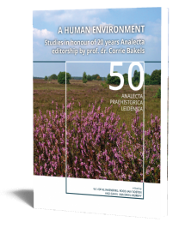 Dedication
Corrie Bakels has been one of the main editors of the Analecta Praehistorica Leidensia (APL) journal for many years. In fact, the 50th edition that is published this month is the 20th Analecta in which she was involved as main editor. It is for this reason, that the 50th edition was dedicated in her honor.
She has responded to the dedication with a video message (in Dutch).