'The Rooseveltian Century': one of the best MOOCs according to New York Magazine
According to New York Magazine, the massive open online course (MOOC) 'The Rooseveltian Century' by Professor by Special Appointment Giles Scott-Smith is one of the best online courses. We asked him why you should take the course and how it came about.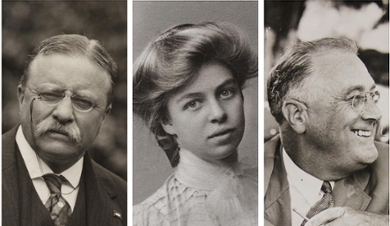 The three Roosevelts
Students highly recommend The Rooseveltian Century if you're interested in history. The online course is about the lives, ideals and achievements of the 3Rs: Theodore, Franklin and Eleanor Roosevelt. We are convinced that these three Roosevelts played an important part in the formation of the twentieth century, but why exactly?
'By re-analyzing and reconnecting the lives and activities of the three main Roosevelts, the MOOC looks at what these three figures have done to change our views on safety, freedom and equality in a positive way', says Scott-Smith. He adds: 'But it's no hagiography – the Roosevelts are, after all, not uncontroversial, not Theodore and certainly not Franklin.'
Learning whatever and whenever you want
More than 6,500 students have taken or are taking the MOOC. According to Scott-Smith, a MOOC is a good way to learn something extra, but it's not a substitute for a regular course. 'It is difficult to create good assignments if you have an online audience, but MOOCs can be very informative and engaging if you know how to convey material in a good and clear way. MOOCs are also easily accessible: a series of classes consists of short videos and sections that you can watch whenever you want. In that sense, they are a perfect addition to regular education: if you want to learn about something that appeals to your interests, or something that is not covered in regular subject materials.'
In addition to The Rooseveltian Century,
Heritage Under Threat
by archaeologist Sada Mire is also on the list of the best MOOCs. 'Leiden is very good at creating engaging MOOCs, it is no coincidence that two Leiden courses were mentioned in the article. For The Rooseveltian Century, the Leiden production team filmed on location for the first time: we really wanted footage of Zeeland, the birth province of the Roosevelts!' says Scott-Smith proudly.
Curious about online education
Scott-Smith came up with the idea of developing the MOOC after giving a speech at the Roosevelt Academy, now known as University College Roosevelt, in 2012. 'I used the speech to praise small-scale liberal arts education and to take a critical look at the (then) increasing hype surrounding MOOCs,' he says, 'but I was intrigued by the phenomenon of online education. I've always been interested in educational innovation, and MOOCs were the latest thing. So I decided, together with my colleague Dario Fazzi, to find out more about them by making one. This year I discovered how important that experience was when, in March, we suddenly had to give our lectures in Leiden online on a large scale.'
About Giles Scott-Smith
During his postdoc, Scott-Smith worked at the Roosevelt Institute in Middelburg, the congress and research centre for American history. He is still connected to this institute today as the Roosevelt Chair for New Diplomatic History. Scott-Smith researches America and in particular how the Roosevelts as politicians, presidents, public intellectuals, and 'promoters of causes' influenced the formation of the twentieth century.