Research project
Selling the UN: Public Diplomacy for a New World Order
How was the future United Nations Organization promoted to global publics during WW II?
Contact

Partners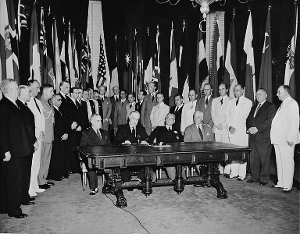 The UN was established during WW II to ensure a peaceful post-war world. How was this message brought to the general publics around the world?
On 1 January 1942 President Franklin Roosevelt and Prime Minister Winston Churchill announced the creation of the United Nations as the coalition of forces fighting the Axis powers. Over the next three years the UN was planned, developed, and finally sanctioned in San Francisco in April 1945. During this three-year period a major propaganda effort was initiated to sell the UN idea and purpose to the publics of the participating nations. It is significant that the first institution to carry the UN title was the United Nations Information Office (UNIO), established in New York in 1942. Drawing on the UN's own archives, the archives of allied institutions such as the Office of War Information, and the papers of those individuals who ran the UNIO through the war, this project pieces together how the UNIO went about its task, and how it paved the way for the transition from the League of Nations to the United Nations in the post-war world.
Publications
Giles Scott-Smith, 'UN Public Diplomacy: Communicating the Post-National Message,' in Dan Plesch and Tom Weiss (eds.),Wartime Origins and the Future United Nations, London: Routledge, 2015
Giles Scott-Smith and J. Simon Rofe (eds.), Global Perspectives on the Bretton Woods Conference and the Post-War World Order, Palgrave Macmillan, 2017

Giles Scott-Smith, 'Competing Internationalisms: American and British Propaganda and the United Nations Information Organization (UNIO) in WW II,' International Journal for History, Culture and Modernity, 2019