Giles Scott-Smith appointed Roosevelt Chair in New Diplomatic History
The Roosevelt Chair in New Diplomatic History is sponsored by the Roosevelt Institute for American Studies (RIAS) in Middelburg, and the new position further strengthens the connection between the RIAS and Leiden.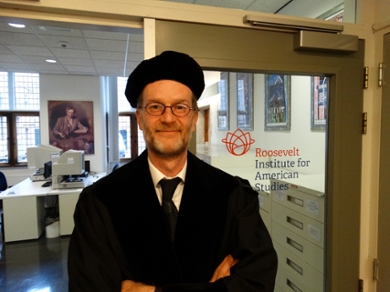 Scott-Smith: "New diplomatic history covers a multi-disciplinary and inter-disciplinary approach to the study of diplomacy, looking beyond the reconstruction of paper trails left by foreign ministries and embassies to explore wider questions of identity, gender, culture, language, location, objects, rituals, inclusion and exclusion, and network. This is important in the context of American Studies, where for some years diplomatic history has been relatively marginal in a field dominated by cultural studies."
The New Diplomatic History network, established in 2011, held its first conference in Leiden in 2013, and has since held two more successful gatherings in copenhagen (2016) and Middelburg (2018). The agendas of the RIAS, the Institute for History in Leiden, and the NDH network therefore all merge in the position of the new Roosevelt Chair.
Scott-Smith: "Studies of diplomacy and diplomats now make use of a range of methodologies, interpreting 'the diplomatic' through theories from sociology, anthropology, and political science, next to more traditional historical views. In this way, over the last decade diplomacy has been brought 'in from the cold' from a relatively neglected field to become one rich in analytical possibility." An advantage of this broader approach has been the breaking down of periodization barriers – by treating diplomacy as a fluid field of activity, the differences between the modern nation-state era and the early-modern era of unstable polities fade away, enabling a fruitful exchange between modern and early modern historians on issues of research focus, methodology, and patterns of historical development. Capitalising on this dialogue, in 2018 Scott-Smith, together with Ken Weisbrode, arranged to begin the journal Diplomatica: A Journal of Diplomacy and Society with Brill.