Leiden strengthens collaboration with China
A delegation from Leiden University, headed by Vice-Rector Hester Bijl, was in China from 9 to 11 October. During the visit to different universities and partner organisations, existing bonds were reinforced and new contacts made. These agreements will make the future exchange of students and researchers between Leiden and China even better.
It was a very warm introduction between Leiden's Vice-Rector Hester Bijl and Vice-President Shengyuan Cao. Although they had never met personally before, the contact between their two universities goes back many years. Shandong University is one of the strategic partners of Leiden University in China. There is broad cooperation between the two universities: several faculties work together and exchange students and researchers. To facilitate this exchange in the future, Bijl and Cao signed a new Memorandum of Understanding, reconfirming the collaboration.
Guest professorship in archaeology
A special ceremony took place at the Department of Archaeology at Shandong University. In the presence of more than fifty students, Thijs van Kolfschoten, Leiden emeritus professor of Archaeology, was installed as a guest professor at the Chinese university. Van Kolfschoten will be teaching in China as well as conducting research there. He also hopes that through this appointment he will be able to arrange for Leiden archaeology students to do an internship in Shandong. A new student exchange agreement was signed to this end between the two archaeology faculties. 'This university is a leading institution in China for archaeology, and the region is amazingly rich in material; there's an enormous wealth of artefacts awaiting students and researchers.' Filled with enthusiasm, Van Kolfschoten kicked off his guest professorship with a lecture for the students who were present.
Learning about Chinese culture
Shandong University is one of the biggest universities in the country, with more than 57,000 students spread over a number of campuses in the provincial capital of Jinan and other cities in Shandong. The institution attracts a large number of international students. The university has a Cultural Center to teach these students about Chinese culture as well as the language. International students learn about the history and customs of China by being involved in a hands-on sense: they play traditional musican instruments, learn about Confucius in national costume of Confucian students and practise creative techniques such as paper cutting and making litographic prints.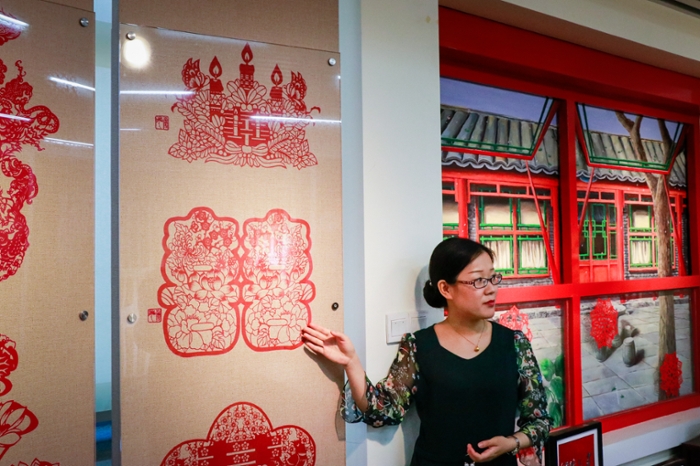 Space is also reserved in the Cultural Center for lessons on one of the most important elements of Chinese culture: the tea ceremony. The Leiden delegation met a number of Leiden students here, who are following a Chinese language programme here for a year, as part of their master's in China Studies. 'Although our Leiden students already have a good command of Chinese after their bachelor's, you only really learn to speak the language well if you are immersed in the language for a longer period,' China coordinator Ingrid d'Hooghe explained.
Chinese PhD candidates in Leiden
Another important Chinese partner for Leiden University is the China Scholarship Council (CSC). This organisation provides scholarships to Chinese PhD candidates - and to a lesser extent to postdocs and students - so they can conduct research in Europe and America. In recent years, many Chinese PhD candidates have obtained their PhD in Leiden, supported by a CSC scholarship: in 2017 there were around forty CSC PhD candidates in Leiden. The visit to China was an ideal opportunity to discuss the experiences of both the PhD candidates and the university, and to update the agreements between CSC and Leiden University.
Peking University
During the short visit to China there was also time for one other partner university. Peking University is the oldest university in the country, and has its roots in the imperial Guozijian academy. Leiden works together with different research groups and educational insgtitutions at Peking University. The delegation visited the lab of Professor Li Yi of the School of Psychological and Cognitive Sciences. She works closely with Carolien Rieffe, Leiden professor of Social and Emotional Development in Children with Auditory and/or Communicative Limitations, on research on children with autism. Yi uses a brain scanner - that is attached to a band around the child's head - to see whether autistic children and their parents show synchronous brain activity when carrying out a task together, and how this differs from non-autistic children and their parents.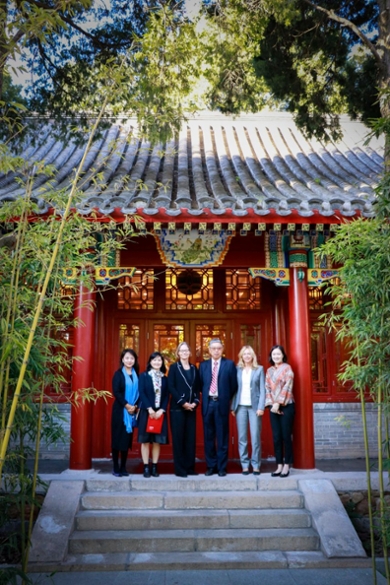 Leiden has a second partnership with the Yenching Academy, an institute of the university in China's capital. The Yenching Academy offers talented students from all over the world a two-year master's programme in China Studies. Seven Leiden students have successfully followed this programme in the past four years. And Leiden students can apply for the programme - which carries a full scholarship - for the coming academic year via the Leiden international officers.
Studying Chinese law in Beijing
The longest collaboration with Peking University is that between the two Law faculties: for more than six years, students from Peking University Law School have come to study in Leiden for one or more semesters, and vice versa. In a beautiful traditional Chinese courtyeard, under the watchful eye of a Leiden student who is currently following the LLM programme in Chinese Law in Beijing and a Chinese student who studied in Leiden last semester, Hester Bijl and Vice-Dean Professor Yuanyuan Li signed a renewed collaboration agreement.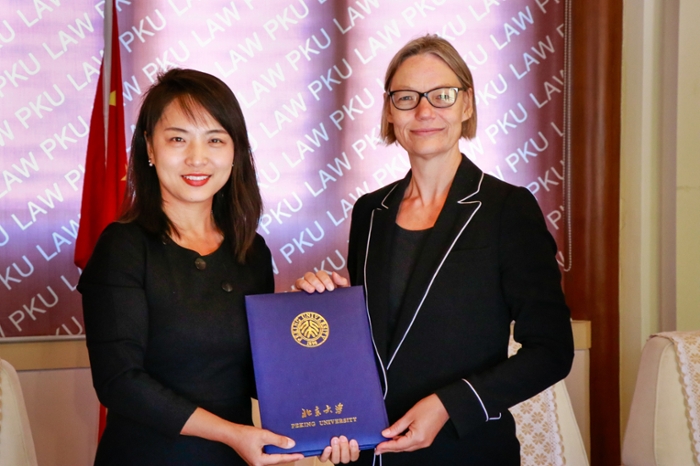 Meeting with alumni
After graduating, Leiden students go off to all parts of the world, including China. Many of them can be found in Beijing, and a meeting with some of them was on the programme. At an informal dinner with Vice-Rector Bijl, the alumni exchanged experiences in Leiden and China. An evening of lively discussions in a mix of three languages – Chinese, Dutch and English – while enjoying a local speciality: Peking duck.
Text and images: Marieke Epping
Mail the editors