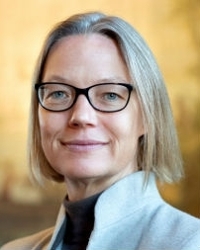 Hester Bijl
Rector Magnificus
Name

Prof.dr.ir. H. Bijl

Telephone

E-mail
Professor Hester Bijl is Rector Magnificus of Leiden University.
Hester Bijl is Rector Magnificus of Leiden University. She is responsible for the teaching and research at the University. Professorial appointments and academic integrity are also part of the teaching portfolio. Hester Bijl is also the point of contact for LERU, EUniWell and the development ofthe Leiden Bio Science Park.
She is Full Professor of Numerical Mathematics at the Mathematical Institute in Leiden. In addition, Professor Bijl is a member of the supervisory boards of he Netherlands organisation for applied scientific research (TNO) and the Leiden centre for innovation and entrepreneurship PLNT and is a member of the boards of Leiden Bio Science Park and Economic Board Zuid-Holland.
Before moving to Leiden in 2016, she spent 17 years at the Faculty of Aerospace Engineering at Delft University of Technology, where she ultimately held the post of Dean of the Faculty.
She holds a PhD in Numerical Mathematics and an MA in English Language and Literature.
Work address
Oude UB
Rapenburg 70
2311 EZ Leiden
Room number A.2.06
Contact
Professor Numerical mathematics
Science
Mathematisch Instituut
Mathematisch Instituut
Work address
Snellius
Niels Bohrweg 1
2333 CA Leiden
Contact
Commissaris
Lid bestuur
Lid bestuur
Lid Raad van Toezicht
Lid bestuur
Bestuurder van de enig aandeelhouder
Lid Raad van Toezicht
Lid Raad van Toezicht