Biodiversity
In Leiden University's Vision on Sustainability 2030, biodiversity (biological diversity) is an important focus in its teaching and research and on its campuses.
Focus on biodiversity
The alarm bells are ringing louder than ever: global biodiversity has already declined by 70% because of climate change and intensified use of space. Recent reports by the Intergovernmental Panel on Climate Change (IPCC) warn that our very existence is threatened and half-baked measures are not an option.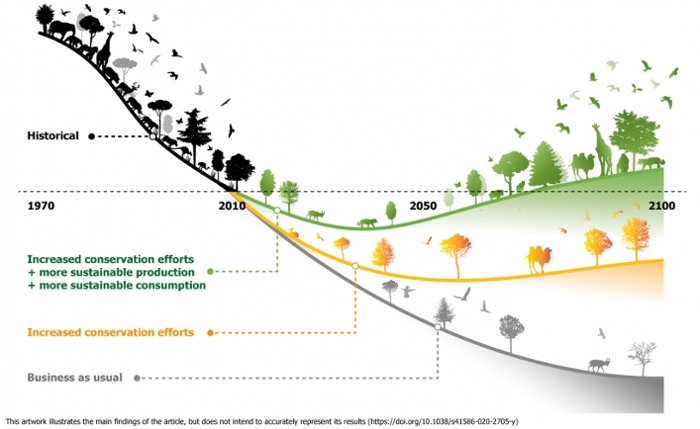 More awareness is needed of this loss of our natural environment. Only then can we reverse the situation, together with our students and staff.
This biodiversity page lists a number of current goals and developments. We are working on biodiversity monitoring and this will be included in our annual Sustainability Report.
Together for species diversity
In this video, 10 universities and colleges, including Leiden University, explain what they are doing to improve biodiversity near and far. See also the pages on biodiversity of the participating institutions.
Biodiversity in research, teaching and outreach
The Liveable Planet planet programme and the Life Sciences, as described in our Sustainable Futures dossier, include teaching and fundamental and applied research that relates to biodiversity. Many different disciplines are working together to keep our earth liveable with clean air, rich flora and fauna and sufficient food.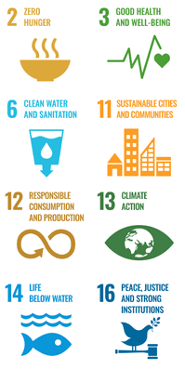 We are contributing to eight of the seventeen UN Sustainable Development Goals:
The University contributes to research and teaching on biodiversity in a way that is unique to Leiden, including via various citizen science projects.
Pavement plants
Research into pavement plants and information about this at the Hortus botanicus makes people aware that pavement plants prevent heat stress, help absorb rainwater and particulate matter, and provide hiding places for fauna in the city. Thanks to citizen science, a map of the distribution of pavement plants in the Netherlands is being compiled. If you'd like to join in, sign up for the pavement plant survey.
Living lab
In ditches at the Leiden Bio Science Park, researchers are investigating the damage to flora and fauna caused by harmful substances, such as pesticides and microplastics. The impact turns out to be more serious in conditions other than in the lab.
Vrouw Venne Polder lab
In the De Vrouw Vennepolder living lab, near Oude Ade in Groene Hart (a more rural area in the Randstad megalopolis) the focus is on building a sustainable community. This comes from different disciplines, such as governance, economics and biology. Maintaining food production in the agricultural polder while restoring biodiversity, urbanisation and salinisation is complex and requires a different approach.
Teaching about the links between biodiversity and a sustainable city
The Urban city-City Biology and Multigreen projects are examples of this.
Leiden canal watch
Together with 500 volunteers, PhD candidates from Leiden University and Naturalis form Leiden canal watch. Every week they take to their canoes to make the Leiden canals plastic-free. They also do research into urban nature and plastic pollution, the consequences of which can be seen in window exhibitions in the bridgemaster's house on the Marebrug bridge (Lange Mare 25, Leiden).
Highway for wild bees
The Leiden Hortus botanicus is home to various species of wild bee that are important for biodiversity. The Leiden University Green Office (LUGO), the University Services Department (UFB) and the Hortus botanicus have therefore increased the number of 'green islands' to make a corridor for wild bees from the Hortus. The Tips & tricks for biodiversity at home page provides information for the people of Leiden on how they can help threatened bee species, for example with bee-friendly plants in their gardens.
Leiden Bio Science Park, area development
In the development of Leiden Bio Science Park (LBSP), biodiversity has been a focus for some time already and an ecologist is always involved. Examples of this include planting a new tree to replace each tree that is cut down and having sufficient water buffers, such as ditches and bioswales to collect and buffer rainwater rather than carrying it directly to the storm drain. Parks have also been created (such as the 12 ha. Schilperoortpark) and work is currently underway on the Hartlijn (priority for pedestrians and bicycles, more lunch benches, medicinal planting along the verges and 65 extra trees). In addition, a green campus square in the Entrance area at the entrance area (next to the lecture hall building), a green rooftop garden and a bicycle parking facility covered by a vegetated pergola will have been realised by mid-2024.
More information about biodiversity policy at the LBSP and results of initiatives.
Liveable campuses
In recent decades, the numbers of students and staff on the Leiden University campuses have doubled, which has resulted in more built-up areas. The University wants to achieve the following to keep the campus liveable and healthy:
use new landscaping methods (e.g. a nature-focused grass-cutting approach)
apply nature-inclusive construction and design (integration of flora and fauna around buildings)
connect green and blue zones (for insects, amphibians and mammals)
reduce heat stress in the summer
improve the absorption of rainwater (climate adaptation)
green our environment (both inside and outside)
reduce light pollution (except for safety)
prevent harmful litter (such as microplastics) that impedes biodiversity.
This requires close and effective cooperation throughout University management (with UFB, Real Estate and LUGO), but also with students and staff, with experts (such as Hortus botanicus and Naturalis), with external parties (such as municipalities) and with local residents. Processes and actions must tie in with and complement one another. This requires awareness from all of us, and we must abandon the idea that greenery only has a recreational and aesthetic function. For example: leaves provide necessary nutrition and grass should be allowed to grow.
The University wants to create a demonstrably more liveable environment, where everyone can de-stress within 400 metres of their workspace, where flora and fauna can flourish and where we can protect unique animals and plants. In short: improved ecological well-being for ourselves and our environment.

In recent years, many more different types of flowering plant have been added to existing greenery and the number of paved areas have been reduced. For example around the Van Steenis, Sylvius and Oude UB buildings, in the courtyard garden at the Johan Huizinga building and on the rooftop garden on the Wijnhaven building.
Preliminary goals
Establish target species of flora and fauna on campuses (or per building).
Apply labels; transparent monitoring (demonstrate visible improvements).
Make 30% of land area green by 2030 (in m2 of horizontal or vertical green space); Status in 2022: a total of 342,132 m2 of land around buildings (278 m2 in The Hague, 48,091 m2 in Leiden city centre, 293,765 m2 at Leiden Bio Science Park), of which 82,962 m2 (24%) is green.
Future plans: green roofs on, among others, Snellius 2022, Schouwburgstraat 2023, Gorlaeus cycle parking facility 2024, Johan Huizinga 2029.