Increasing Biodiversity at Leiden University
Leiden has one of the most petrified inner-cities of The Netherlands. This is not beneficial for the biodiversity crisis and Leiden University, with a significant number of buildings within the Singels, should be more proactive on this matter. Currently, LUGO is taking steps with internal departments and Hortus Botanicus to make the buildings and the area surrounding the buildings more green having a positive impact on the biodiversity. Especially the use of expertise from the Hortus and Naturalis was an important pillar of the project, we wanted to really make a difference and choose plants that are indeed beneficial for the biodiversity.
Expertise
Leiden University has the in-house expertise and the connections to develop innovative plans and project which will have an positive impact on the local biodiversity. Together with the Hortus Botanicus and Naturalis we examined the bee species which were spotted at the Hortus as shown in the list below.
List of bees (in Dutch):
Grasbij, Andrena flavipes
Tweekleurige zandbij, Andrena bicolor
Vosje, Andrena fulva
Roodzwarte dubbeltand, Nomada fabriciana (nestparasiet van o.a. Andrena bicolor)
Langkopsmaragdgroefbij, Lasioglossum morio
Aardhommel-groep, Bombus terrestris/lucorum/magnus/cryptarum
Steenhommel, Bombus lapidarius
Akkerhommel, Bombus pascuorum
Weidehommel, Bombus pratorum
Gehoornde metselbij, Osmia cornuta
Rosse metselbij, Osmia bicornis
Gewone sachembij, Anthophora plumipes
Tuinhommel, Bombus hortorum
Vierkleurige koekoekshommel, Bombus sylvestris
Viltvlekzandbij, Andrena nitida
Grijze rimpelrug, Andrena tibialis
Wormkruidbij, Colletes daviesanus
Klimopbij, Colletes hederae
Roodpotige groefbij, Halictus rubicundus
Grote wolbij, Anthidium manicatum
Grote klokjesbij, Chelostoma rapunculi
Grote bladsnijder, Megachil
Opening of Biodiversity Project at Old University Library
Since the desire to support these species and enable to travel further grew, we wanted to create more biodiversity hotspots around University buildings. These hotspots needed to have special vegetation which these specific types of bees can thrive on. For that reason, the vegetation was to be selected based on the properties desirable for these types of bees.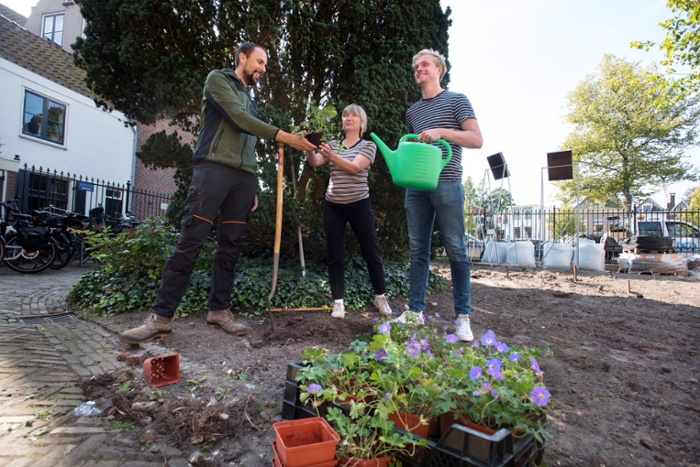 Locations
Oude UB, Rapenburg 70
Before, the symbolic and iconic entrance garden used to be a grass lawn not enabling insects and animals to nestle and make it their home. The garden was totally renovated using the plant sorts provided by Hortus, it now consists of 4 sections where plants can grow freely separated by pathways for people to take a closer look at the amazing vegetation. The sign is there to inform people walking by about the project as well as motivate them to do something themselves.
Gravensteen
The back garden, where the bikes are stored, used to consist only of stone without any vegetation. For that reason, a small strip of green was made. In collaboration with local staff members working at Gravensteen, the garden is maintained offering them fresh herbs for tea.
Kamerlingh Onnes Gebouw
The Kamerlingh Onnes Building already has a green roof where vegetation can grow freely, however at the ground level there is little green beneficial for the biodiversity. In collaboration with the municipality, we created 2 strips at the west- and east-side of the building where vegetation can grow freely. This project is still in progress and the plants will be put in the ground somewhere next spring.

Other Initiatives
The Leiden Bio Science Park is heavily focussing on building with biodiversity in mind. The park itself, but also the relatively new buildings are required to live up to nature inclusive building standards with the aim to make as little impact possible to the established biodiversity.
'Stoepplantjes' is an interactive project from the Hortus, anyone can help! It is a project aimed to create more awareness of the beautiful and important little plants growing between tiles and rocks in Leiden. These wild plants may be considered weeds, or make it look untidy. However, these plants are really important for the rainwater drainage as well as the biodiversity. Want to help? Simply get your chalk and name the type of plant and share it on social media! Check out their website for more information.