Nature in farmland
The Netherlands is not particularly rich in 'wild nature'. Comparatively, what we have is a lot of intensively used agricultural land. This means that from nature's perspective there much to be gained by combining the 'nature' and 'agriculture' functions. Not an easy task in such a densely populated country as the Netherlands.
'Leiden has a long tradition of research on agricultural nature management,' says Geert de Snoo, Professor of Conservation Biology. 'Our research focuses not only on biodiversity,' he explains, 'but also for example on ecotoxicology, environmental policy and how people view nature. It's highly multidisciplinary.'
Small-scale landscape
'Dutch agriculture is super intensive,' continues De Snoo. 'Variety has disappeared from our landscape, and with it much of the biodiversity.' Leiden research reveals the advantages of a different approach, with more attention being paid to landscape elements such as flower-filled field margins, natural ditch banks and wooded slopes. 'These have a positive effect on biodiversity,' says De Snoo, 'as well as on water management, farmland productivity, and the beauty of the landscape. Everyone benefits.'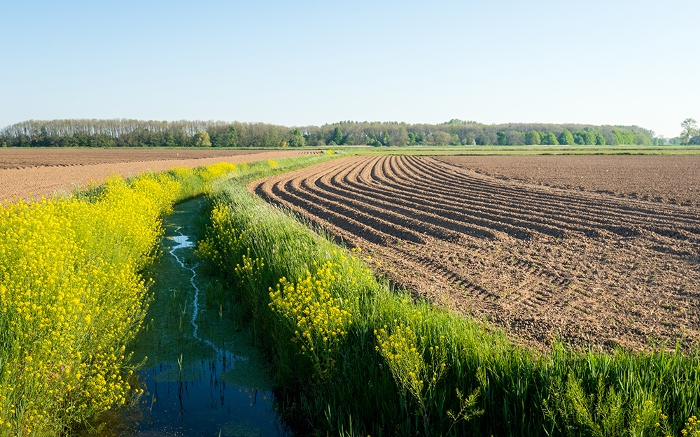 Integrated nature
The Netherlands is the world's second agricultural export country, after the United States. 'It's actually incredible, for such a small country,' says De Snoo. In order to maintain this high level of production, farmers use a lot of chemical fertilisers and pesticides. The result is a high level of environmental pressure. 'We investigate alternative approaches that have less impact on biodiversity. For example creating more room for nature on farms, and investing in a healthy soil life on the fields.'
Together, Leiden biologists, environmental scientists and social scientists develop strategies for so-called nature-inclusive land use: agriculture that incorporates nature, but also more nature in cities and villages. De Snoo: 'Our research shows under what circumstances this creates added value, and what's required to make it possible.' This approach is already paying off: areas where more land area is devoted to natural elements, such as field margins, harbour more diverse species of butterflies and birds.
The value of biodiversity
Despite research and protection measures, biodiversity on Dutch farmland continues to drop. 'Nature protection is not only a biological or environmental issue,' De Snoo emphasises, 'It also has many social, psychological, administrative and economic aspects.'
Leiden research has shown, for instance, that farmers have to be intrinsically motivated to protect nature. They have to be convinced of the importance of diversity in what grows on their land. You cannot convince them with money alone. 'They have to be proud of what is happening on their land,' says De Snoo. 'A flowery field border, a brooding black-tailed godwit. Especially if they are given positive feedback.'
And how do you make sure that 'green thinking' also permeates into policy? 'Certainly not by continuously pitting nature and agriculture against one another,' answers De Snoo, 'but instead by showing how you can work with nature, our ecological capital. Indeed, by promoting nature-inclusive thinking.' And researchers and nature conservationists have to keep drawing attention to nature's right to exist. The significance of nature and biodiversity is gradually shifting towards 'value' alone, notes De Snoo. 'This has become apparent in a recent large-scale analysis of European policy documents. As an approach, it is too one-sided. If you want to get through to farmers, the general public and policy makers, you need knowledge based on sound research.'