Sweden: Rob van Wijk
How do our Leiden alumni cope with the restrictive measures in their country, the possible finding of a vaccine, medication to combat corona or how do they cope with working from home, with or without children? Read the story of Rob van Wijk, living in Uppsala, Sweden.
Rob van Wijk
Rob van Wijk (Bio-Pharmaceutical Sciences 2009) defended his PhD thesis on "Translational pharmacokinetics-pharmacodynamics in zebrafish: integration of experimental and computational methods" in February 2020 and moved from Leiden to Uppsala, Sweden.
He works there as postdoctoral researcher in pharmacometrics, in the department of Pharmaceutical Biosciences of Uppsala University.
Infectious diseases
"Uppsala University is not only the oldest university of Sweden (no less than 98 years older than our Alma Mater in Leiden!), the pharmacometrics group is also one of the best in Europe and even globally. It is the ideal place to go for a postdoc in this discipline that uses mathematical modelling and simulation to predict the efficacy and safety of new drugs.
My interest specifically is in infectious diseases which brought me to the group of prof. dr. Ulrika Simonsson. Enthusiastically I moved to Uppsala on the first of March, and set-up my laptop and working place on the second of March. Little did I know that I was only going to work there for a few days before we were advised to work from home.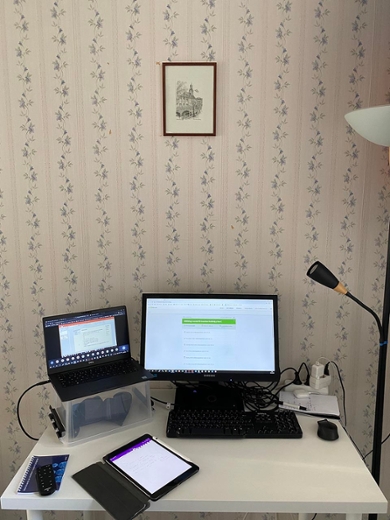 Online fika
The few days that I did work at BMC (Biomedicinska Centrum) I got introduced to an important Swedish tradition: fika. Fika is having coffee with preferably something sweet. At BMC we have fika at 09:30 and at 15:00 to informally chat with colleagues. Now that almost all of us are working from home, the fika is transferred to Zoom. Especially for someone like myself who only had a few days to get to know everyone, this is a good solution.
What also helps is the virtual background function in Zoom, where you can exchange your surrounding by uploading a picture or video, for example BMC itself (for professional use), your alma mater (when feeling homesick), or even a video surrounding you with dancing palm trees and sharks (for the more informal settings).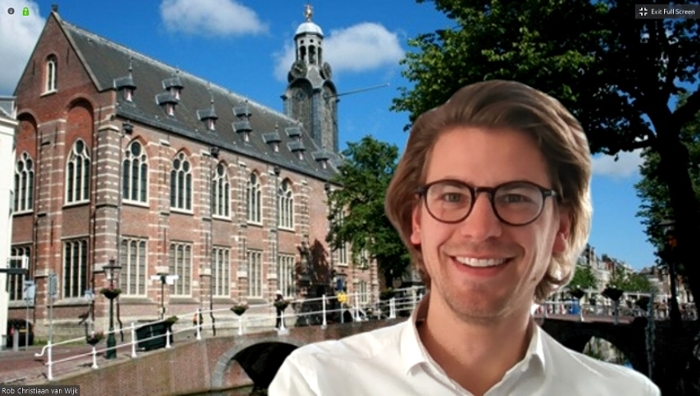 Drug repurposing
Working in drug development in infectious diseases with usually little funding, drug repurposing is no new concept. Drug repurposing means treating a disease with a drug that has been developed for another disease. Most if not all drugs now in the news are example of this: hydroxychloroquine is a drug against malaria, remdesivir against ebola, and the BCG vaccine is originally developed against tuberculosis.
Using a drug that has already been registered on the market has the advantage of having its human safety proven, which will shorten development time. But proving human efficacy against another disease is challenging, and re-analysis of historical data on the drug by advanced computational methods like pharmacometrics can aid in the appropriate design of the clinical trials.

So it is an exciting time to work in this field, also the coronacrisis sped up open science and open access making (clinical) data available more often for re-analysis.
Swedish (lack of) measurements
Living in Sweden means receiving a lot of questions regarding the situation here. It is true that Sweden is an outlier when it comes to restrictive measurements to prevent spreading SARS-CoV-2. There are both legal, cultural, and economical reasons for this. First of all, Sweden does not have the laws in place to close down cities. Anders Tegnell, the state epidemiologist, explains this in more detail in a recent interview with Nature. This also has to do with the cultural aspects of mutual trust and sharing responsibilities between the Swedish people and their government.
But I wouldn't be surprised if economic reasons were also weighing in. Sweden is famous for its welfare state, but it doesn't have the natural resources (e.g. oil) compared to its neighbour Norway, except perhaps wood and iron, to sustain this.
So what measurements are in place, if not an intelligent lockdown? In short, people are advised to wash hands, work from home, stay home when experiencing symptoms. You should stay 1.5 meter apart from one another, and for example cafés are fined when their tables and services do not allow for it. Also, larger crowds are forbidden.
This is especially interesting at the time of writing, April 30th, which is Valborgsmässoafton (Walpurgis Eve). Valborg is the biggest celebration of the year particularly for students, who sing at the Castle, paddle through the river, salute the rector at the balcony of Carolina Rediviva (university library), and in general gather outside and drink (or spray) sparkling wine to celebrate the arrival of spring. Sadly, all these events are cancelled. Instead of students, the grass field are covered with signs to keep your distance. Rumours had it that they were going to be spread with fertilizer to scare away the students, like in (academic rival) Lund.
I'm sure better times are ahead to experience Swedish culture; I'm counting on it!"
01.05.2020