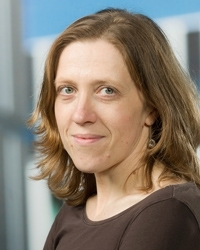 Monika Timmer
Analist
Naam

Dr. M. Timmer

Telefoon

E-mail
Analist
Wiskunde en Natuurwetenschappen
Leiden Institute of Chemistry
LIC/Macromolecular Biochemistry
Werkadres
Science Campus
Einsteinweg 55
2333 CC Leiden
Kamernummer EE2.01
Contact
Skinner S.P., Liu W.M., Hiruma Y., Timmer M., Blok A., Hass M.A.S. & Ubbink M. (2015), Delicate conformational balance of the redox enzyme cytochrome P450cam, Proceedings of the National Academy of Sciences of the United States of America 112(29): 9022-9027.
Liu W.M., Skinner S.P., Timmer M., Blok A., Hass M.A.S., Filippov D.V., Overhand M. & Ubbink M. (2014), A Two-Armed Lanthanoid-Chelating Paramagnetic NMR Probe Linked to Proteins via Thioether Linkages, CHEMISTRY-A EUROPEAN JOURNAL 20(21): 6256-6258.
Guan Jia-Ying, Foerster Johannes M., Drijfhout Jan W., Timmer Monika, Blok Anneloes, Ullmann G. Matthias & Ubbink Marcellus (2014), An Ensemble of Rapidly Interconverting Orientations in Electrostatic Protein-Peptide Complexes Characterized by NMR Spectroscopy, CHEMBIOCHEM 15(4): 556-566.
Scanu S., Foerster J.M., Timmer M., Ullmann, G.M. & Ubbink M. (2013), Loss of electrostatic interactions causes increase of dynamics within the plastocyanin-cytochrome f complex, Biochemistry 52: 6615-6626.
Geen relevante nevenwerkzaamheden