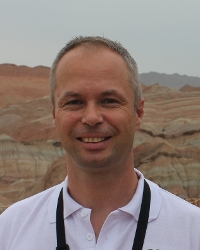 Martijn Bezemer
Hoogleraar Ecologie van plant-microbe-insect interacties
Naam

Prof.dr.ir. T.M. Bezemer

Telefoon

E-mail
Hoogleraar Ecologie van plant-microbe-insect interacties
Wiskunde en Natuurwetenschappen
Instituut Biologie Leiden
IBL Plant Sciences & Natural Products
Werkadres
Sylvius
Sylviusweg 72
2333 BE Leiden
Contact
Hol W.H.G., Vestergård M., Hooven F. Ten, Duyts H., Voorde T.F.J. van de & Bezemer T.M. (2017), Transient negative biochar effects on plant growth are strongest after microbial species loss, Soil Biology and Biochemistry 115: 442-451.
Li Y., Li Q., Yang J., Lü X., Liang W., Han X. & Bezemer T.M. (2017), Home-field advantages of litter decomposition increase with increasing N deposition rates: a litter and soil perspective, Functional Ecology 31: 1792-1801.
Pineda A., Kaplan I. & Bezemer T.M. (2017), Steering soil microbiomes to suppress aboveground insect pests, Trends in Ecology and Evolution 22: 770-778.
Jeffery S., Memelink I., Hodgson E., Jones S., Voorde T.F.J. van de, Bezemer T.M., Mommer L. & Groenigen J.W. van (2017), Initial biochar effects on plant productivity derive from N fertilization, Plant and Soil 415: 435-448.
(2017), Effects of plant diversity on the concentration of secondary plant metabolites and the density of arthropods on focal plants in the field, Journal of Ecology 105(3): 647-660.
Kos M., Jing J., Keesmaat I., Declerck S.A.J., Wagenaar R. & Bezemer T.M. (2017), After-life effects: Living and dead invertebrates differentially affect plants and their associated above- and belowground multitrophic communities, OIKOS 126: 888-899.
(2017), Timing of simulated aboveground herbivory influences population dynamics of root-feeding nematodes, Plant and Soil 415: 215-228.
Wubs E.R.J. & Bezemer T.M. (2016), Effects of spatial plant-soil feedback heterogeneity on plant performance in monocultures., Journal of Ecology 104: 364-376.
Li Q., Yang Y., Bao X., Jianguo Z., Liang W. & Bezemer T.M. (2016), Cultivar specific plant-soil feedback overrules soil legacy effects of elevated ozone in a rice-wheat rotation system., Agriculture, Ecosystems and Environment 232: 85-92.