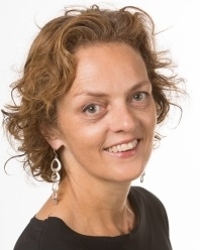 Joanne van der Leun
Dean, Professor of Criminology
Name

Prof.dr. J.P. van der Leun

Telephone

E-mail
She works for the faculty since 2001 and was one of the pioneering staff members of the Criminology BA and MA program at Leiden Law School. She was appointed professor of Criminology in 2008. Crime, migration and human trafficking are her research themes.
She was affiliated before with Utrecht University (where she also received her MSc.) and Erasmus University (where she also received her PhD).
Tasks dean
General management policy
Faculty Strategy

(including The Hague strategy)

Internal and external relations
Chairs and Professorships
PhD defences
Diversity
Internationalisation (including LLM Advanced)
Employee and student representation
Alumni policy and funding
Marketing and Communications
Library
Research
Her research interest lie in the field of crime, migration, human trafficking and crimmigration. Her research is embedded in the research programme Criminal Justice: Legitimacy, Accountability and Effectivity and the profile area Interaction between legal systems.
She supervises several PhD students, together with collegaues. Over the years she received research funding for her projects of the EU, NWO, KNAW, WODC, Politie & Wetenschap, local and national authorities, Leids Universitair Fonds, Raad voor de Rechtsbijstand en Open Society Justice Initiative.
Ancillary Activities
She is member of the Advisory Committee of Immigration Affairs of the Ministry of Security and Justice, the Netherlands. She is also member of the Advisory Board of the centre of Expertise for the Forensic Psychiatry (see further Ancillary Activities).
Teaching
She has been Director of the criminology program for years and has taught a number of courses in the Criminology and in the Law curriculum. During her time as a dean she will be only involved in teaching to a limited extent.
Dean, Professor of Criminology
Faculteit Rechtsgeleerdheid
Stafdienst Bedrijfsvoering
Faculteitsbestuur
Lid bestuur
Lid Redactieraad Secondant
Denktank/ Expertgroep Ondermijningsbeelden
Lid bestuur
Lid bestuur
Lid Adviescommissie Vreemdelingenzaken ACVZ
Lid bestuur
lid van de Raad van Advies
Lid Raad van Advies Centrum voor Immigratierecht UL