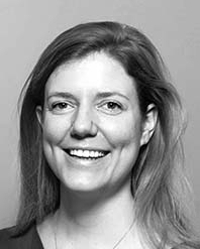 Neske Baerwaldt
PhD candidate
Name

N. Baerwaldt

Telephone

E-mail
Neske Baerwaldt is a PhD candidate at the Van Vollenhoven Institute.
Neske Baerwaldt (1987) is a PhD candidate at the Van Vollenhoven Institute. Neske's research constitutes one part of a larger NWO funded research project led by Professor M.A.H. van der Woude: 'Getting to the Core of Crimmigration', which examines and compares migration and border management in different municipalities along Europe's internal borders.
Within this overarching project, Neske's project focusses on the German-Austrian border region. She examines how German political debates on border control have unfolded since the Schengen area was established (1985-present), how the legal frameworks governing cross-border mobility in that same period evolved, how such legal frameworks have translated into practices at the local level in the German-Austrian border region, and how people living and working in the region have experienced such shifting border regimes. In addition, she examines if – and if so, which – local views and experiences reach political debates and decision-making processes. As such, she intends to shed light on the interplay between official representations of the border in the political and legal realms and diverse and often ambiguous local border realities.
Neske completed her Research Master Social Sciences (with distinction) in 2015 at the University of Amsterdam. After obtaining her degree, Neske worked as an intern with Apache – platform for investigative journalism – and as a Humanitarian Affairs Officer with Doctors Without Borders (MSF) in Ethiopia.
Working title: The evolution of the German-Austrian borderland: local perspectives
PhD candidate
Faculteit Rechtsgeleerdheid
Instituut voor Metajuridica
Van Vollenhoven Instituut
No relevant ancillary activities