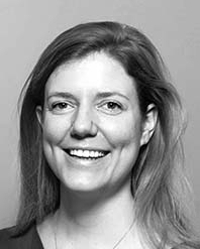 Neske Baerwaldt
PhD candidate
Name

N. Baerwaldt

Telephone

E-mail
Neske Baerwaldt is a PhD candidate at the Van Vollenhoven Institute.
Neske Baerwaldt (1987) is a PhD candidate at the Van Vollenhoven Institute. Neske's research constitutes one part of a larger NWO funded research project led by Professor M.A.H. van der Woude: 'Getting to the Core of Crimmigration', which explores the growing interconnectedness of migration management and crime control in the EU's internal border regions. Within this overarching project, Neske explores the capacity of local communities to speak back to power at the (supra)national level on migration issues. To explore this capacity, she empirically studies the ways in which local communities shape (e.g., resist, contest, re-negotiate, legitimize, amplify) crimmigration control, and the (governmental) responses such local mobilizations elicit.
Neske is interested in the social origins of borders, state power, and law. By studying the politics of crimmigration control, Neske hopes to gain insight into the processes through which social order is continuously constituted and challanged, dispite and through opposition.
Neske completed her Bachelor's degree in Bèta-Gamma (Future Planet Studies) in 2012, and obtained her Research Master Social Sciences (with distinction) in 2015, both at the University of Amsterdam. After completing her degree, Neske worked as an intern with Apache – platform for investigative journalism – and as a Humanitarian Affairs Officer with Doctors Without Borders (MSF) in Ethiopia.
PhD candidate
Faculteit Rechtsgeleerdheid
Instituut voor Metajuridica
Van Vollenhoven Instituut
Work address
Reuvensplaats
Reuvensplaats 3-4
2311 BE Leiden
Room number 101 C
Contact