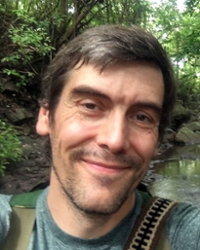 Alexander Geurds
Associate professor / Vice Dean
Name

Dr. A. Geurds

Telephone

E-mail

ORCID iD
Alexander Geurds is a Vice-Dean and Associate professor at the Faculty of Archaeology.
Office days
Tuesday to Thursday
Research
My research encompasses the archaeology and cultural history of Mesoamerica, southern Central America, and Colombia and tackles questions related to the emergence of monumental landscapes and working with stone to create sculptures and rock art. My current research in Nicaragua considers practices of mound-building and includes exploratory fieldwork to document stone sculptures. This work is accompanied by a second focus on exploring ways to develop collaborative forms of archaeology and foreground critical thinking on the role of archaeology in postcolonial nation-states.

Cultural dynamics, memory, and landscape are topics that I am especially focused on. I have a broad interest in the history of archaeology and the development of regional schools of thought in the Americas in particular. I have supervised students working on a wide range of subject in the archaeology and anthropology of the indigenous Americas, including topics of historical archaeology.

Methodologically, my work embraces both archaeological field survey and excavation as well as museum collections. In thinking about collaborative archaeology, I also engage in semi-structured interviews, leading co-creative community consultations, and advising on archaeological exhibits in regional museum in parts of Central America.

My research includes more than 20 years of field research in parts of Mexico, Central America, and Colombia and has received uninterrupted funding by NWO and the National Geographic Society between 2007 and 2019. Between 2014 and 2017, I also served as Senior Research on an interdisciplinary project researching linguistic and archaeological traces of long-distance contact between the central Andes and Mesoamerica, funded through an ERC-Advanced Grant and led by Professor Willem Adelaar, of the Leiden University Centre for Linguistics (LUCL).
Teaching activities
I offer courses throughout the BA in Archaeology, ranging from regional introductions into the archaeology of the Americas to the history of archaeological thought. I also lecture in the (R)MA on globalisation in archaeology and globalisation and current issues in Americanist archaeology.
Curriculum vitae
Alexander Geurds is an archaeologist with broad experience in conducting archaeological field research, working with museum collections and in historical archives in Colombia, Costa Rica, Guatemala, Mexico, Nicaragua, and Peru. After working in Mexico for several years, he independently set up an international research project in Nicaragua in 2007, which he has directed since then, growing into one of the largest and longest continuous-running projects in southern Central America. Geurds has a strong presence in academic networks, through scholarly meetings and publications, to promote the exchange of expertise and overall integration of the regional archaeological field. Geurds served as Academic Director of ARCHON, the Dutch Research School for Archaeology. He is the founding editor of the Brill book series The Early Americas: History and Culture. He currently sits on the SAA Committee of the Americas and is a founding member of the EAA Community for the Americas.

The cross-disciplinary and locally engaged structure of his research, integrating archaeology, history, soil science, and ethnography, has enabled him to generate ground-breaking data on poorly known archaeological regions, and improve understanding of symbolic forms of human-environmental interaction. His research is coupled with a commitment to public engagement at the local level through research impact studies to promote social resilience and cultural awareness in the economically challenged regions of Nicaragua, and assist in forming archaeological expertise across Central America. He is also promoting the indigenous past of the area more widely through his long-standing contributions to National Geographic outreach and educational programs.

Geurds currently holds adjunct positions at the University of Oxford and the University of Colorado–Boulder, and is Fellow of Wolfson College, Oxford. He is an elected Fellow of the Royal Anthropological Institute, a nominated Fellow of the Society of Antiquaries of London.
Associate professor / Vice Dean
Faculteit Archeologie
World Archaeology
Caribbean and Amazonia
Work address
Van Steenis
Einsteinweg 2
2333 CC Leiden
Room number A2.07
Contact
Associate Professor Adjunct