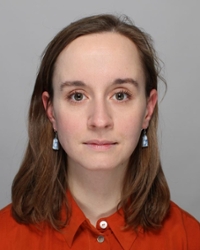 Marie Kolbenstetter
PhD candidate
Name

M.M. Kolbenstetter MA

Telephone

E-mail

ORCID iD
Marie Kolbenstetter is a PhD candidate at the Faculty of Archaeology.
Office days
Tuesday, Wednesday, Thursday
Research
Marie's broader research interests lie with interaction and the construction of local identities in Central America. Her current research investigates how precolonial and modern practices shape(d) past and present local identities on the island of El Tigre in Southern Honduras. In her PhD project "Of Islanders and Foreigners? Tracing local identities and cultural encounters in the Gulf of Fonseca, Central America (AD 400-1521)" she combines data from archaeological and ethnographical fieldwork to investigates the role of ceramic and lithic technology as well as fishing and mollusk harvesting practices in the construction of place, territory and social landscapes in the diverse watery environments of the Gulf of Fonseca.

Marie developped her field project, Proyecto Arqueológico Manglares e Islas del Golfo de Fonseca (PAMIGOLF) in collaboration with the Universidad Nacional Autónoma de Honduras (UNAH). So far, working with students and graduates from the anthropology program of the UNAH, PAMIGOLF has surveyed part of El Tigre and the coastal mangrove forests in the Gulf of Fonseca and has conducted ethnographic interviews with fishermen and mollusk collectors from the islands of Zacate Grande and El Tigre.
Teaching activities
Marie is currently completing her teaching qualification and occasionally serves as guest lecturer in classes for Archaeology of the Americas and Material Culture Studies. She is also able to co-supervise BA or MA projects.

She is also affiliated with the Universidad Nacional Autónoma de Honduras (UNAH) where she gives guest lectures, workshops and supervises Licenciatura theses.
Curriculum vitae
Marie Kolbenstetter (RMA) graduated in 2015 from a Bachelor of Arts in Anthropology of the Americas with a minor in Classical Archaeology from the University of Bonn, Germany. She then joined the Faculty of Archaeology at Leiden University for a research masters, from which she graduated cum Laude in 2018 with a thesis entitled "Crafting Community: Regional Traditions and Local Practices in the Gulf of Fonseca, Honduras (AD 350-1250)".

In 2020, she was awarded a NWO PhD in the Humanities grant to pusrsue her research on precolonial southern Honduras at both Leiden University and at the Université Paris Nanterre (France).
PhD candidate
Faculteit Archeologie
World Archaeology
Caribbean and Amazonia
Work address
Van Steenis
Einsteinweg 2
2333 CC Leiden
Room number C1.10
Contact
Lecturer
Faculteit Archeologie
World Archaeology
Caribbean and Amazonia
Work address
Van Steenis
Einsteinweg 2
2333 CC Leiden
Room number C1.10
Contact
No relevant ancillary activities