Leiden Observatory
Public Outreach
The Astronomy & Society Group provides the focus for Leiden Observatory's aim to engage the public with the wonders of the universe and share the scientific, technological, cultural and educational aspects of astronomy with society.
The Oude Sterrewacht (Old Leiden Observatory)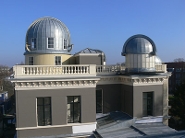 From 1860 to 1974 Leiden Observatory operated from what is now called the Oude Sterrewacht or Old Observatory, located on the former ramparts of Leiden. The Old Observatory has been home to many world famous astronomers like Oort, Hertzsprung and De Sitter, who made discoveries and laid down theoretical frameworks that are still being used today. The Visitors Centre features a number of exhibitions about astronomy and is accessible through the adjacent Botanical Gardens. The Old Observatory offers tours of the building and telescopes by Leiden University astronomy students, and hosts open days, public talks and stargazing events throughout the year [Read more]
Universe Awareness
Universe Awareness (UNAWE) uses the beauty and grandeur of the Universe to inspire young children and unaweencourage them to develop an interest in science and technology. The programme also aims to introduce children to the idea of global citizenship at a crucial stage of their development – to show them that they are part of an international community. The resources are open to all children aged 4 to 10 years, especially those from underprivileged communities. Founded and coordinated by Leiden Observatory, UNAWE is currently active in 61 countries. [Read more]
Space Awareness
Space Awareness uses the excitement of space missions and discoveries to engage children and teenagers with science and technology and stimulate their sense of European and global citizenship. Space Awareness is an EU-funded project involving 10 partner organisations and 22 national nodes in Europe and Africa. [Read more]
Citizen Science Lab
The Citizen Science Lab will be an incubator and central hub for citizen science efforts with a particular focus on astronomy, environmental science and Earth observations. It will focus on societally relevant problems that can be addressed only by involving a substantial fraction of society. The Citizen Science Lab will organise workshops for groups of scientists and members of civic organisations, to develop new citizen science projects. CSLab builds on the leading citizen science, outreach and education expertise at Leiden University, which spearheaded the citizen science initiatives iSPEX and the LIGHT2015 Dark Sky Meter app.
European Projects
Space Awareness and Europlanet 2020 RI have received funding from the European Union's Horizon 2020 research and innovation programme under grant agreements nº 638653 and nº 654208 respectively.
Education
Leiden Observatory is also involved in various other education and outreach projects, such as Open Science Centre, IAU astroEDU, Europlanet and NOVA's Mobile Planetarium project
Links
Upcoming public events at the Old Observatory: www.oudesterrewacht.nl
Upcoming public events in the Netherlands: http://www.astronomie.nl/#!/actueel/agenda/
Astronomy news (in Dutch): www.astronomie.nl