Top EU official Paquet meets researchers from Leiden
Jean-Eric Paquet, a Director-General at the European Commission, visited Leiden University on 20 February. He was impressed by the researchers' drive, the wide range of topics that they research and the strong collaboration with Leiden Bio Science Park.
Paquet is Director-General of the Research and Innovation Directorate-General of the European Commission. During his visit to Leiden, he met 15 University researchers who have been awarded a European Research Council (ERC) grant, and spent the afternoon at Leiden Bio Science Park. Most of the day was spent in the company of civil servants from the ministries of Education, Culture and Science and Economic Affairs and Climate Policy.
Overwhelming number of researchers
'When I visit universities, I usually see only one or two researchers, so this is a bit overwhelming,' Paquet said as he found himself surrounded by researchers in the Academy Building. He spoke to various holders of an ERC grant – 91 researchers currently hold a €1.5m, €2m or €2.5m grant – or a Marie Curie Fellowship, another European grant. The meeting was chaired by Eveline Crone, Leiden Professor of Neurocognitive Developmental Psychology and a member of the ERC Scientific Council. Paquet particularly wanted to hear about the researchers' concerns and criticisms as well as any challenges they might face. 'Those are the things that nobody tells me,' he said. However, the researchers were predominantly positive and happy with the grants.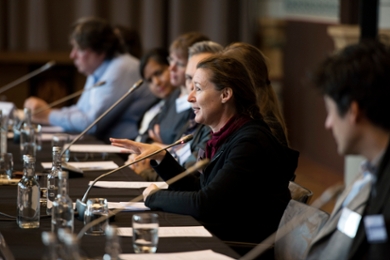 Time to think
'The research that I'm doing is cool,' said Professor of General Psychology, Bernhard Hommel. 'But it's personally that it's been a life changer.' He is using his €2.5m ERC Advanced Grant to research how we determine the extent to which setting goals influences our behaviour. He left Germany for the Netherlands 20 years ago, and was on the verge of despair upon discovering that owing to his age he did not qualify for a single research grant. The ERC grant gives him peace of mind, he said. It gives him more time to think – and he makes sure to take this. The grant also enables him to work in an international team.
Curiosity driven
Astronomer Frans Snik is glad that rather than being about the use or economic necessity of research, the grants are more about 'pure curiosity'. 'The ERC also funds risky research. They clearly have faith that researchers will do something good with the money, and you don't find that faith everywhere.' Snik has been awarded €1.5m for his research. 'This project is leading me in the direction of the discovery of primitive extraterrestrial life, within now and 30 years.'
He uses the money to pay his own salary and that of a number of staff members. His research team is developing innovative optical elements for telescopes that make it possible to discover exoplanets that orbit stars. 'We can research massive quantities of stars, and we now know that there are more planets than stars in the universe. About one in five stars has a planet like the earth, possibly with running water. If there is oxygen too, there is probably also life,' said Snik.
Collaboration with Leiden Bio Science Park
After lunch, Paquet and his entourage were given a short tour of Leiden Bio Science Park, one of the five biggest life-science parks in Europe. It hosts more than 150 businesses, and 19,000 people – students and employees – pass through its gates every day. The plans are ambitious: it will continue to grow and will host more businesses and other amenities such as housing, restaurants and venues for events. Twenty-five thousand people will work there in 2025.
At Janssen, a subsidiary of American concern Johnson & Johnson, there were presentations on the tangible results of the collaboration between businesses and researchers at the Park: for instance, the development of a malaria vaccine at the LUMC and the organs-on-a-chip of fledgeling company Mimetas. These biological organ models can be used to test medicines.
Impressed
At the end of his visit, Paquet said how impressed he was by how European grants are used in Leiden. 'What really struck me was the researchers' drive, the wide range of topics that they research and the strong collaboration with Leiden Bio Science Park.'