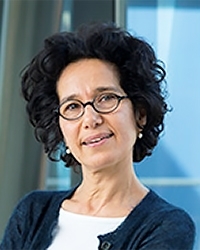 Maria Yazdanbakhsh
Afdelingshoofd afdeling parasitologie LUMC
Name

Prof.dr. M. Yazdanbakhsh

Telephone

E-mail
Maria Yazdanbakhsh is professor in cellular immunology of parasitic infections and is the head of the department of Parasitology at LUMC. Her research focuses on the interaction between parasites and their human host. She is the winner of the Spinoza prize 2021, member of Steering Committee of NWO-WOTRO Science for Development, scientific coordinator of the Leiden Controlled Human Infection Center (L-CHIC) and the chair of Internationalisation Committee of LUMC and LUMC Global. She holds visiting professorships at the University of Indonesia in Jakarta, University of Hasanudding in Makassar, Indonesia and Centre de Recherches Médicales de Lambaréné, Gabon. She has been elected fellow of the Royal Academy of Sciences (KNAW), fellow of Royal Holland Society of Sciences and Humanities (KHMW) and fellow of Academia Europaea. She has been awarded an ERC advanced grant in 2022.
More information about Maria Yazdanbakhsh
What we can learn from interaction between the human immune system and parasites?
The interaction between the human immune system and parasites is fascinating and exciting. Parasites are master of immune regulation and studying their interaction with the human host unravels new immunological pathways as well as novel immune modulatory molecules. This allows the development of vaccines against parasitic infections that affect more than 2 billion people living in low to middle income countries. It also enables the development of new strategies to prevent lower efficacy of some vaccines in rural areas of low to middle income countries (LMIC) as well as novel therapeutics for inflammatory diseases that are highly prevalent in affluent countries like ours.
Combining challenging field studies and clinical trials in Africa and Asia, with in cutting edge immunological technologies available in her lab at LUMC, the work of Maria Yazdanbakhsh aims at gaining in depth understanding of the human immune system. Environmental factors (among them parasites) shape the immune system profoundly and this can impact vaccine responses and disease profiles. The studies conducted in LMIC, has challenged the immunological basis of the Hygiene Hypothesis, showing that regulatory immune responses rather than the Th1/Th2 balance underlies changing disease profiles. Her research has led to the identification of parasite-derived immune regulatory molecules. Moreover, her population studies in rural and urban areas of LMIC, is showing that intense exposure to microorganisms and parasites can override the influence of genetic factors on the immune system.
Recently, Maria Yazdanbakhsh has contributed to the creation of the Leiden Controlled Human Infections Centre (L-CHIC), where volunteers are intentionally infected with malaria, schistosome or hookworms, adhering to procedures for absolute safety. This is a highly innovative approach for studying the host-parasite interaction at clinical, cellular and molecular level. Such controlled infections, speed up vaccine and drug testing and thereby serve population health worldwide.
Her research lines are aligned with NWA Sustainable Development Goals; Health Research for Prevention and Treatment; and Personalised Medicine.
Academic career
Maria Yazdanbakhsh obtained her BSc from King's College London, and her MSc from London School of Hygiene and Tropical Medicine. She did her PhD at University of Amsterdam in 1987 and a post-doctoral fellowship at Imperial College London. Thereafter, she became a researcher at Leiden University, and moved along the academic line of assistant, then associate professor.
She developed strong collaborations with academic centers in South East Asia and in Africa. She contributed to capacity building and training of medical and biomedical researchers who obtained their PhDs in Leiden University and moved back to their countries to contribute to scientific research. This has created an extensive network, that work together, making it possible to conduct numerous comparative population studies that lead to discoveries with short and long terms impact on regional health.
In 2005, she was appointed as a professor at Leiden University Medical Center. Shortly thereafter she became the head of department of Parasitology where basic and clinical scientists work together to understand host-parasite interactions at the molecular, cellular and population level. The knowledge gained is being applied to achieve the Department's mission of contributing to 1) development of effective vaccines against parasitic diseases, 2) identification of parasite-derived immune modulatory molecules to control inflammatory diseases, and 3) improved diagnostics.
She is a member of the NWO/WOTRO science for development steering committee, the President of Dutch Society for Parasitology, advisory board of Wellcome Trust Center for Molecular Parasitology, and Visiting professor at University of Indonesia, University of Hasanuddin and Centre de Recherches Médicales de Lambaréné, Gabon. She has been elected fellow of the Royal Academy of Sciences (KNAW).
In 2017, she was invited lecturer on Dies Natalis with a lecture entitled "Van parasitisme naar mutualisme" (From parasitism to mutualism).
Prizes and honourable appointments
Visiting professorship University of Indonesia
Visiting professorship Univesity of Hasanuddin
MSD-AWARD for Human Parasitology
Afdelingshoofd afdeling parasitologie LUMC
Faculteit Geneeskunde
Divisie 2
Infectious Diseases
Parasitologie
No relevant ancillary activities