Van Engelshoven's Letter to Parliament calls for more funding for science
'Academics have descended from their ivory tower, but there's still too little action or financing.' Leiden professor of Science Communication Ionica Smeets saw all her wishes come true on 28 January, with the presentation of the Letter to Parliament sent by Minister Van Engelshoven of the Ministry of Education, Culture and Science discussing the future of scientific research in the Netherlands.
Smeets' reaction was a reflection of one of the three ambitions Van Engelshoven outlined in her letter, which she presented in Rijksmuseum Boerhaave in Leiden: strengthening the bond between science and society through investment in the dialogue about the National Science Agenda and science communication. The minister aims to earmark €4 million to achieve this goal. One reason Smeets welcomed this so eagerly was that the minister is now expressing this ambition both in concrete action and in monetary terms. She hopes that this will create more room within academia for communicators, academics who also have a talent for communicating their knowledge. She also favours inaugurating financial rewards for initiatives that academics are currently carrying out simply for the love of their discipline, such as public appearances, and she would like to see more focus on research into science communication 'to make that field evidence based, just like the entire world of science'.
Cooperation leads to greater cooperation
Ewine van Dishoeck, professor of Astrophysics at Leiden University, responded to another ambition: to strengthen the leading position of Dutch research on a global scale, not least by promoting cooperation. There's a good reason why she was asked to join the discussion and make a recommendation: Dutch astrophysics holds a firm place at the top of the global rankings. First of all, international cooperation concerns the enormous investments in infrastructure; astrophysics would be unable to make progress without heavy infrastructure. That's why the Netherlands is currently contributing €30 million to the new Square Kilometre Array, which is being jointly built and used by eleven countries. Van Dishoeck is keen to emphasise that the joint financing and use of such sites automatically leads to cooperation in other areas, such as research and talent development.
Cooperation is essential
Wim van Saarloos, professor of Theoretical Physics at Leiden and chair of the Royal Netherlands Academy of Arts and Sciences (KNAW), gave a clear assessment of the landscape of Dutch scientific research: all the universities in the Netherlands are good. This situation is the envy of other countries, which often only have a few top-class universities that attract all the best talent – both scientists and students – which in turn creates a gulf between those institutions and the other universities in those countries. Van Saarloos stresses that the smooth running of the Dutch model depends on disciplines cooperating at a national level; this is the only way Dutch research can maintain its high quality. Robust disciplines are a condition of successful cooperation, he argues. 'A faculty needs to be large enough to be robust, and small enough to want to cooperate.'
Breakthroughs and innovations
Curious and committed. That's the title of Van Engelshoven's Letter to Parliament. As she explains, this title stresses that curiosity is the engine of scientific progress, just as commitment is the engine of social and economic progress. Science that combines both these elements leads to socially-relevant breakthroughs and innovations - if not right away, then certainly in the longer term. 'I will continue to stand up for free, fundamental research,' said Van Engelshoven.
Anatomical theatre
All the scientists and key figures who contributed to the Letter to Parliament were invited to the presentation. There were dozens of them, as Van Engelshoven had visited universities, universities of applied science and other scientific institutions. Some contributors, including Smeets and Van Dishoeck, were invited to speak briefly about one of the ambitions. The presentation was given in the anatomical theatre, Rijksmuseum Boerhaave's replica of the Theatrum Anatomicum that was commissioned to be installed in a building on Rapenburg by the Leiden anatomy professor Petrus Pauw. Pauw wanted to open up the inside of the human body to students (and to a paying audience, at five pence a ticket), for research and teaching purposes.
Broad support
Rector Magnificus Carel Stolker, who was also present at Boerhaave, celebrated the way the Letter to Parliament came into being. 'This is no bureaucratic production, but rather a document which represents the contributions of many people from the practical field of scientific research. I really appreciate that.'
For a short summary of the three ambitions and the extra investment, see the box at the bottom of this page

Read the complete Letter to Parliament (in Dutch):

Nieuwsgierig en betrokken - de waarde van wetenschap

('Curious and committed – the value of science')
Text: Corine Hendriks
Photographs: Freek van den Bergh
Mail the editors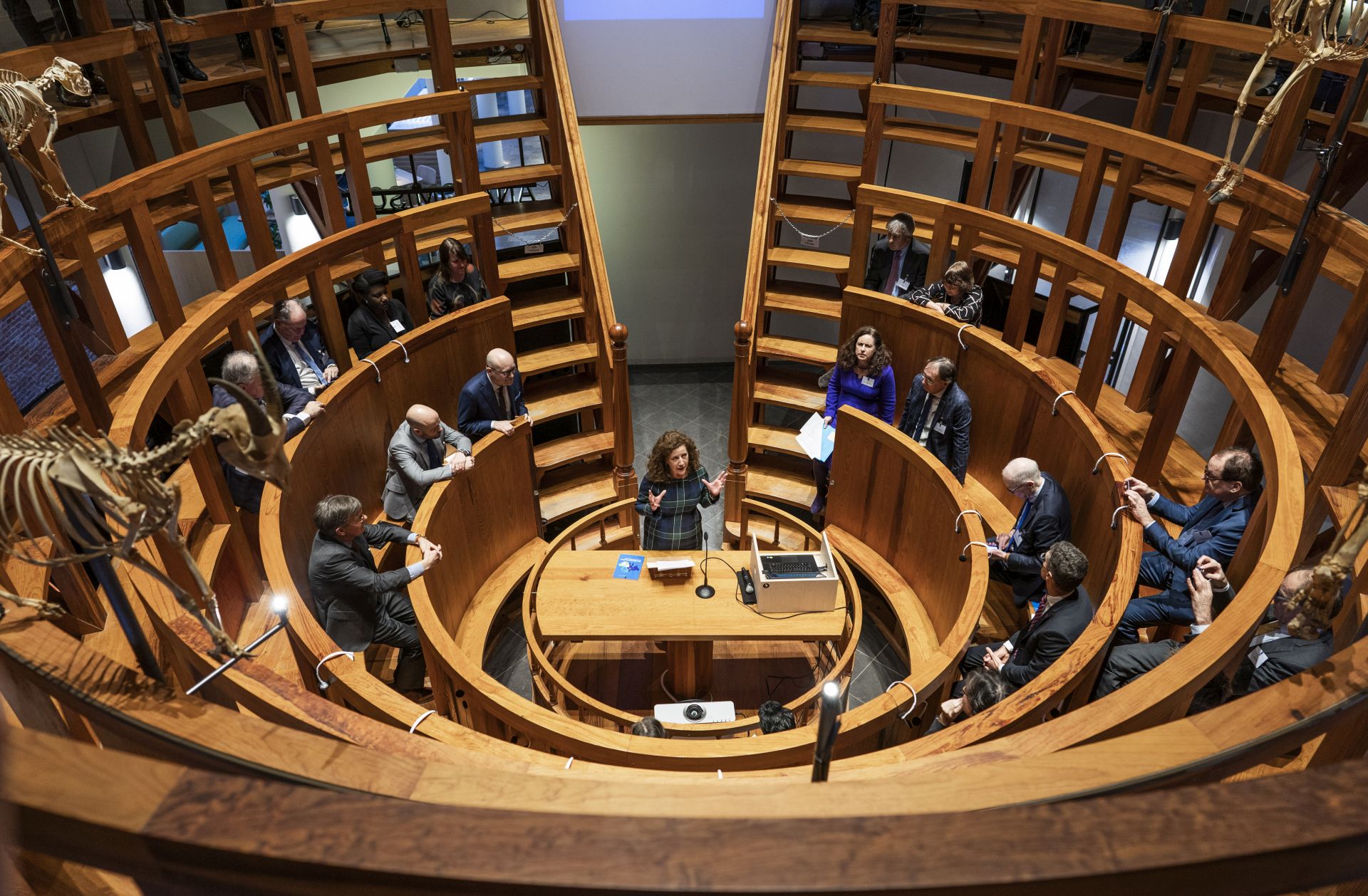 The future of scientific research in the Netherlands, and the extra investment it is receiving
The key is to invest in innovation and a firm foundation, with room for free, unfettered research. The concrete ambitions, with their associated extra investments, are:
Global impact of Dutch research
Without extra investment: an ambitious new programme, Horizon Europe, founded on the principles of excellence, impact and open science
€30 million for the Square Kilometre Array

€1 million for the Pathfinder Einstein Telescope

€20 million each year for new digital research infrastructure: supercomputer and infrastructure for open science

Increasing to €70 million from 2020: sector-wide plans for science and technology research, as well as studies in the social sciences and humanities

Increasing to €25 million from 2020: expanding practical research
Connecting with society
Without extra investment, open science in the Netherlands and Europe

Increasing to €130 million from 2020: National Science Agenda for innovative and socially relevant research

€1 million for science communication, in the form of a dialogue with society in general, plus €3 million for dialogue about the National Science Agenda
Both breeding ground and safe harbour for talent
Without extra investment: appreciating and rewarding scientific staff for research, impact and education, more permanent contracts and a teaching prize

Diversity:
Without extra investment: European Gender Summit coming to the Netherlands 2019, and in 2020 a national action plan for diversity in academia

€5 million each year to get more women into science, technology, engineering and maths (STEM) and to attract researchers with a migration background