Succesful workshop 'Traditions of Authority'
As part of the Leiden University 'Profile Area' Political Legitimacy, a number of colleagues from Political Science, History, Law, Business Administration and adjacent disciplines are investigating the role of 'tradition' in their respective disciplines. These disciplines have long struggled with the concept of tradition. On Friday the 9th of June, the Law Faculty Room hosted the workshop Traditions of Authority, Authority of Traditions, where this research on tradition has been discussed from various perspectives.
Jason Harding (Durham University) presented a paper on the role of tradition in the oeuvre of influential British poet and publicist T.S. Eliot. In his essays and poems Eliot dealt with the traumatized generations of British society after the Great War. Herman Paul (Institute for History) invited Harding and the workshop participants to reflect more on tradition as an analytical concept. Reactions made all the more clear how unclear the definition of tradition as a concept remains in various academic disciplines.
At first sight, unclear definitions and law do not go hand in hand. Yet, Judith Pollmann (Institute for History) proved the opposite holds true for early modern customary law. Furthermore, customs developed as a result from both tradition and innovation. Joseph Jaconelli (University of Manchester) also showed how conventions have played a significant role in British constitutional law up until the present day. For a large part, conventions are expressions of constitutional tradition, although they are not constitutional laws in their own right. Gert Jan Geertjes (Institute of Public Law) seconded this idea for the role of conventions in his comments, which focused on conventions in Dutch constitutional law.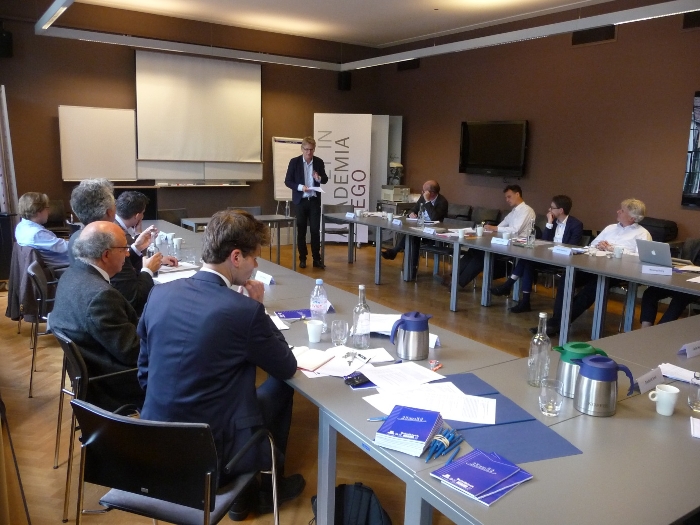 Toon Kerkhoff (Institute of Public Administration) advocated a revival of Historical Institutionalism among his colleagues who study institutional practices. No administrative system can be fully understood without some knowledge of what it has been, and how it came to be what it is. Henk te Velde (Institute for History) shared Kerkhoff's concern and he applied it in his paper to the role of tradition and the history of parliaments. To a large extent these political institutions rely on tradition to legitimize their hold on power. Yet, the Dutch parliament for example hardly shows any interest in its own history.
Luc Verhey (Institute of Public Law) and Henk te Velde chaired this search for disciplinary similarities and differences in the use of concepts of tradition. Gert Jan Geertjes and Lauren Lauret (Institute for History) were responsible for the practical organisation of the workshop.