Artwork "Verdwenen Jodenbuurt" unveiled in Cleveringa Lecture Room.
On Tuesday 29 November a sculpture made by Willem Knaup Verdwenen Jodenbuurt (Vanished Jewish Neighbourhood) was unveiled in the Cleveringa Lecture Room in a niche made especially for it. Speeches were given by Professor Rick Lawson, Eric Daalder and Professor Joanne van der Leun.
From office to Cleveringa Lecture Room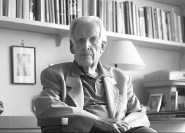 The faculty was presented with the sculpture this year in May during the symposium (on)recht en kust ((in)justice and art). The bronze sculpture of a woman with a blanket over her head stood for years in the office of Professor Hans Daalder. Upon his retirement, he was allowed to take the sculpture home with him. Professor Daalder passed away at the beginning of April and his son Eric Daalder returned it to the faculty. Rick Lawson, at that time Dean of the law faculty, promised to give the sculpture a fitting place at the faculty. This promise was fulfilled on Tuesday.
Symbolic significance

The sculpture is of a fleeing woman whose head is covered by a blanket. The sculpture is now in a niche in a pillar at the back of the Cleveringa Lecture Room. In this way a link has been made between the sculpture and the speech given by Professor Cleveringa to protest against the dismissal of his Jewish colleagues, and in particular his mentor Professor Meijers. The sculpture will be a permanent reminder to students of how injustice is revealed every day.
The unveiling was part of the Cleveringa remembrance programme which is held every year at Leiden University and around the world in honour of the speech given by Professor Rudolph Cleveringa on 26 November 1941. Wim Voermans delivered the Cleveringa lecture in Leiden this year. He gave passionate speech about the consequences of referendums.