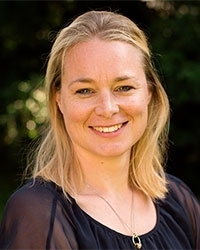 Anne-Laura van Harmelen
Hoogleraar Brein, Veiligheid en Veerkracht
Naam

Prof.dr. A. van Harmelen

Telefoon

E-mail

ORCID iD
Onderzoek
Een op de drie kinderen en adolescenten krijgen te maken met een traumatische ervaring in hun jeugd, zoals kindermishandeling of pesten. Jeugdtrauma is een van de sterkste voorspellers van een groot aantal gedragsmatige en mentale problemen in de adolescentie. Om deze problemen tegen te gaan richt het onderzoek van Anne-Laura van Harmelen zich op het beter begrijpen van de complexe sociale, psychologische en neurobiologische mechanismen van risico en veerkracht in de adolescentie. Zo heeft van Harmelen laten zien dat jeugdtrauma gerelateerd is in veranderingen in de structuur en functioneren van het brein, waardoor mensen kwetsbaar zijn voor mentale problemen en dat dezelfde neurobiologische mechanismen mensen kwetsbaar maken voor suicide. Ook heeft ze laten zien dat er belangrijke factoren zijn die veerkracht versterken bij jongeren met jeugdtrauma ervaringen, zoals vriendschappen en steun van de familie, het ophalen van positieve herinneringen en sterkere regulatie van stress responses in het brein. Ook heeft haar onderzoek laten zien dat deze factoren elkaar sterk beïnvloeden. Deze bevindingen hebben ertoe geleidt dat van Harmelen heeft voorgesteld dat veerkracht het best beschreven kan worden als een complex en dynamisch systeem.
Kort CV
Sept 2020-heden: Hoogleraar Brein Veiligheid en Veerkracht, Instituut Pedagogische Wetenscappen, Universiteit Leiden.
Honorary Senior Affiliate, MRC CBU & Department of Psychiatry, University of Cambridge.
2016-2020: Royal Society Dorothy Hodgkin Fellow/Senior Research Associate, Psychiatry, University of Cambridge
2015-2020: Fellow, Lucy Cavendish College Cambridge
2015-2017: Tutor and Director of Studies PBS, Lucy Cavendish College Cambridge
2014-2016: Rubicon Fellow, Department of Psychiatry, University of Cambridge
2008-2013: Promotie Psychologie (Klinische psychologie), Universiteit Leiden. Promotie datum: 10 December 2013
2006-2008: Master of Science (Cum Laude), Psychologie; VU Amsterdam
2003-2006: Bachelor of Science, Psychologie, Universiteit van Groningen
1999-2003: Bachelor of Physical Education, Windesheim College, Zwolle.
Subsidies
2019 Returning Carer's scheme, University of Cambridge (£10K) (2019-2020)
2018 Royal Society Research Grant (£103K). The resilient adolescent brain (2018-2020)
2018 Royal Society Enhancement Award (£98K). The resilient adolescent brain (2018-2020)
2017 MQ Brighter Futures Award (£548K). Help overcome and prevent the emergence of suicide (2018-2020)
2016 Royal Society Dorothy Hodgkin Fellowship (£417K). The neurobiology of resilience after child maltreatment (2016-2020)
2015 Additionale Rubicon Fellowship (£12K) (2015-2016)
2014 Returning Carer's Scheme, University of Cambridge (£7K) (2014-2016)
2013 Rubicon Fellowship, Netherlands Organization for Scientific Research (€140K). Verminderen vriendschappen de negatieve consequenties van emotionele mishandeling?
Prijzen en onderscheidingen
2020 Rising Star Award. Association for Psychological Science
2019 Society of Biological Psychiatry travel fellowship award ($2000)
2019 Master of Arts, University of Cambridge
2018 Emerging Leader in Adolescent Mental Health prize, Medical Research Foundation MRC (£5000)
2018 Nominatie voor the University of Cambridge Vice Chancellors award for Public engagement with research.
Hoogleraar Brein, Veiligheid en Veerkracht
Faculteit der Sociale Wetenschappen
Instituut Pedagogische Wetenschappen
Forensische gezinsped. en Jeugdhulpverl.
organisatie van groot Europees neuroscience congres
Ik schrijf een column om de twee maanden