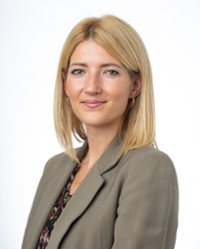 Simona Demkova
Assistant professor
Name

Dr. S. Demkova LLM MA

Telephone

E-mail

ORCID iD
Simona Demková is an Assistant professor in European law at the Europa Institute. Her research focuses on the fields of European law, fundamental rights protection and digital technologies. Previously she worked as a postdoctoral researcher at the University of Luxembourg within the framework of interdisciplinary (law and computer science) project – DILLAN (Digitalisation, Law and Innovation). She completed her PhD thesis titled 'Effective Review in the Age of Information: The Case-study of Semi-automated Decision-making based on Schengen Information System' at the University of Luxembourg under the supervision of Prof. Herwig Hofmann. Simona holds a master's degree in International Relations from the Central European University in Hungary and an Advanced LL.M. in European and international human rights law from Leiden University in the Netherlands.
Assistant professor
Faculteit Rechtsgeleerdheid
Instituut voor Publiekrecht
Europees Recht
Demková S. (2022), Enforcing remedies: the challenges of automatisation for effective oversight. In: Ligeti K. & Brodersen KH. (Eds.) Studies on Enforcement in Multilevel Regulatory Systems. Luxemburger Juristische Studien = Luxembourg Legal Studies no. 24 Baden-Baden: Nomos. 185-210.
Demková S. & Hofmann H.C.H. (2022), General principles of procedural justice. In: Ziegler K.S., Neuvonen P.J. & Moreno-Lax V. (Eds.) Research handbook on general principles in EU law: constructing legal orders in Europe. Research Handbooks in European Law Cheltenham: Edward Elgar Publishing. 209-226.
Demková S. (2021), The decisional value of information in European semi-automated decision-making, Review of European Administrative Law 14(2): 29-50.
Demková S. (2019), The grand chamber's take on composite procedures under the single supervisory mechanism, Review of European Administrative Law 12(1): 209-224.
Quintel T. & Demková S. (2020), Allocation of responsibilities in interoperable information exchanges: effective review compromised?. In: Amalfitano C., Anrò I., Rass-Masson L. & Théron J. (Eds.) L'État de droit = o stato di diritto = The rule of law: ateliers doctoraux 2019 de la European School of law Toulouse, Università degli studi di Milano. Cahiers Jean Monnet no. 6 Toulouse: Editions des Presses de l'Université de Toulouse 1 Capitole. 589-616.
No relevant ancillary activities