Simona Demkova on Enforcement Challenges in Multilevel Regulatory Systems
On 15-16 December, Simona Demková participated in a Closing conference and a Book launch event of the University of Luxembourg doctoral training programme on the Enforcement Challenges in Multilevel Regulatory Systems – DTU REMS.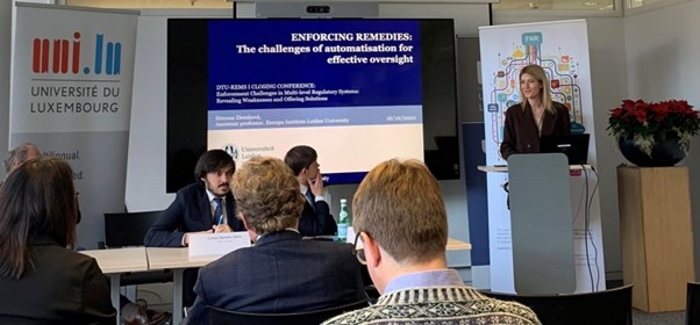 The DTU REMS is a joint research programme of the Faculty of Law, Economics and Finance (FDEF), the Faculty of Language and Literature, Humanities, Arts and Education (FLSHASE) and the Max Planck Institute Luxembourg for Procedural Law (MPI Luxembourg), funded by the Luxembourg National Research Fund. The programme studies how enforcement in multi-level regulatory systems is designed and functions and addresses specific enforcement challenges. The Closing event celebrated the finalisation of the doctoral work of 15 researchers examining enforcement challenges in and across different legal disciplines as well as from a political science perspective. To conclude the successful trajectory that started in 2017, last week's event aimed to showcase the DTU REMS scientific outcomes and launch a collective volume, 'Studies on Enforcement in Multilevel Regulatory Systems' edited by Prof. Dr. Katalin Ligeti , and Dr. Kei Hannah Brodersen, LL.M., published by Nomos.
Simona Demková, formerly a doctoral researcher within the DTU REMS programme under the supervision of Professor Herwig Hofmann, presented her research findings and her chapter within the collective volume on 'Enforcing remedies: the challenges of automatisation for effective oversight'. The chapter introduces the European phenomenon of employing automation technologies within the multilevel EU cooperation. The discussion then considers two key challenges arising from this phenomenon for individual rights enforcement. First, automatisation amplifies existing integration and thus creates deeper in-transparencies within the multilevel European conduct. Second, the EU-established jurisdictional rules continue to limit oversight of the automatised multilevel conduct. As a result, individuals face restricted access to remedies resulting in an increasingly undermined legal protection of individual rights in the studied context.
See here to learn more about the doctoral training programme REMS I.