Impact of automated decision-making on European public law
From 14 to 15 September 2023, Simona Demkova, AI researcher at the Europa Institute, participated in the INDIGO Project Final Conference, where she provided valuable perspectives on the implications of AI for European public law.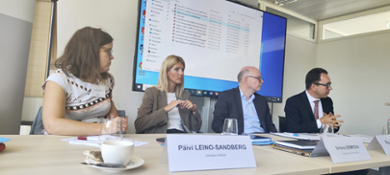 The topic of the conference addressed all aspects of the theme 'The future of European public law under the influence of automated decision-making.' Demkova's presentation drew from her extensive research and experience in the field, offering valuable insights into the potential ramifications of the awaited AI Act, during the conference's opening panel on 'Accountability, rule of law and automation of decision-making in European Union public law'. Her presentation also included insights from her recently published book Automated Decision-Making and Effective Remedies. Demkova joined a distinguished group of experts, including Herwig Hofmann, leader of the Indigo Project, Paul Nemitz, Principal Adviser at the European Commission, Isabella Alberti from Torino University, and Professor Päivi Leino-Sandberg from the University of Helsinki.
The INDIGO Final Conference marked the culmination of the project INformation in the EU's DIgitalised GOvernance (INDIGO), a research consortium of experts in EU law dedicated to exploring the implications of digitalisation and automation in EU governance. The project is coordinated by the University of Luxembourg and involves five European higher education institutions. It focuses on the future of democratic governance in Europe and the relation between the individual and the public sphere. The conference aimed to distill key learnings, present policy proposals, and stimulate ongoing discussions about the future of European public law in the age of automation.