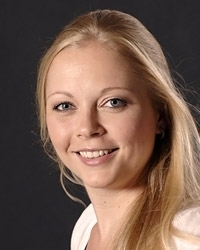 Rachel Schats
Assistant Professor
Name

Dr. R. Schats

Telephone

E-mail
Since January 2016, Rachel Schats is Lecturer in Human Osteoarchaeology in the Faculty of Archaeology, Leiden University. She studied archaeology with a specialisation in osteoarchaeology at Leiden University and University College London after which she was appointed as a research and teaching assistant for the Laboratory of Human Osteoarchaeology in Leiden. Her PhD research aimed at gaining a better understanding of the physical consequences of medieval developments, such as urbanisation and commercialisation, by comparing rural and urban skeletal populations. Although differences are observed between the skeletal collections, the key finding is the absence of a marked distinction between town and country. The noted variations in skeletal indicators of disease, activity, and diet are minor and do not support the traditional idea that towns and villages in medieval Holland and Zeeland had become worlds apart. While urban living is frequently associated with negative consequences, this is not supported by this research.
Research interest
Rachel's main research interests are osteoarchaeology and palaeopathology in a comparative perspective. One of her past projects was looking into the occurrence of syphilis in the Netherlands. Most recently, Rachel is studying the distribution and impact of malaria in the medieval Netherlands. To most, malaria is known as a tropical disease, yet, it used to be endemic in the Netherlands up to the 1950s. For the medieval period, little is known about the distribution of the malaria and as a result it is not taken into account in discussions on medieval health and disease. Rachel's research aims to remedy this by applying spatial epidemiology to disease prevalence to study the distribution and impact of malaria in the medieval period. Additionally, together with Yale University she is developing a new method to identify malaria directly in skeletal material. For this project, Rachel received a grant from the Bakels Fund in 2017.
Professional activities
Rachel is in the board of the Stichting ter Financiering van Barge's Anthropologica, a foundation which aims to maintain the teaching of the subject of physical anthropology at an academic level and to produce high quality scientific research in the field of physical anthropology. To do this, the foundation organises lectures and gives out small scholarships to students and researchers.
Assistant Professor
Faculteit Archeologie
Archaeological Sciences
Bio-Archaeology
Work address
Van Steenis
Einsteinweg 2
2333 CC Leiden
Room number C0.16
Contact
No relevant ancillary activities