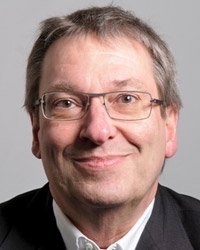 Frans Theuws
Professor of Medieval Archaeology of Europe
Name

Prof.dr. F.C.W.J. Theuws

Telephone

E-mail
Research Projects
- The Merovingian north
Professor Frans Theuws studied History and Provincial Roman Archaeology at the University of Nijmegen and Medieval Archaeology at the University of Amsterdam (1983 cum laude). His PhD research dealt with the characteristics of early medieval society in the southern Netherlands and northern Belgium (1988 cum laude). As an initiator and a team leader he was involved in the organisation of the European Science Foundation project 'The Transformation of the Roman world'. He has directed several projects financed by the National Science foundation on the archaeology of the Late Roman and Early medieval period of Northern Gaul. He directed excavations of medieval settlements in the southern Netherlands. Between 2003 and 2011 he was professor of Historical Archaeology at the University of Amsterdam.

Frans Theuws is currently professor of medieval archaeology at the University of Leiden (as of January 1st 2012). His research will focus upon the complex networks and relations that connect the various regions of Europe and the Mediterranean (connectivity) in the Early Middle Ages. The movement of persons, objects, knowledge and ideas and the role of various agents (from peasants to kings) will be studied on the basis of evidence from cemeteries and settlements. To achieve this goal he will closely cooperate with the department of Near Eastern Archaeology and its medieval archaeologists. Current projects directed by him are the Saint-Servatius project, dealing with the archaeology of the early Christian complex in Maastricht and the Anastasis project which has as its goal the publication and analysis of unpublished Merovingian cemeteries in the Netherlands. As of 2012 a project will be started that has as its goal the study of Merovingian and Carolingian society in the north of the kingdom. Topics such as urbanisation, rural development, Christianisation and especially trade and exchange will be dealt with. Detailed research on these topics in the Netherlands, Belgium and the German Rhineland, in cooperation with institutions in each country, will be combined with more general research in Europe and the Mediterranean at large. Frans Theuws is also involved in the Udruh project in Jordan of the University of Leiden and the Al-Hussein Bin Talal University in Jordan which can be considered a Mediterranean counterweight to the project in the north.

Students who want to participate and contribute to one of these projects with a Ba- or MA- thesis or in a class dealing with the material culture of Merovingian cemeteries should contact me over e-mail or come to my office on Tuesdays from 11.00 to 12.30.

Additional position
Frans Theuws is editor in chief along with Prof. Dries Tys of the Free University of Brussels of the international academic journal Medieval and Modern Matters (Brepols Academic Publishers).
Professor of Medieval Archaeology of Europe
Faculteit Archeologie
World Archaeology
Provincial Roman & Medieval Archaeology
Work address
Van Steenis
Einsteinweg 2
2333 CC Leiden
Room number B1.22
Contact
Professor Emeritus of Medieval Archaeology of Europe
Faculteit Archeologie
World Archaeology
Provincial Roman & Medieval Archaeology
No relevant ancillary activities