Book
The Saint-Servatius complex in Maastricht
The Vrijthof excavations (1969-1970)
Author

Frans Theuws, Mirjam Kars

Date

06 June 2017

Links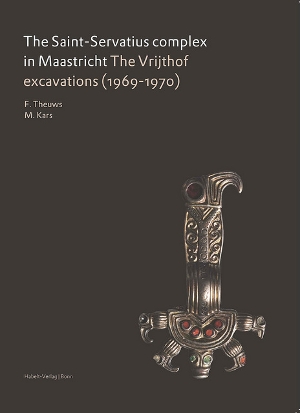 In 1969-1970 large-scale excavations took place at the Vrijthof Square in the ancient town of Maastricht. Maastricht is the central place par excellence in the Middle Meuse valley, which in its turn shows early signs of recovery after the collapse of the Roman state. It is the cradle of the Carolingian dynasty. The Vrijthof excavations contribute in an important way to the understanding of Maastricht as an early town. The complicated stratigraphy of the site is discussed in relation to the history of what has always remained an open space in the town. Of crucial importance was the construction of the Roman highway from Cologne to northern France. It crosses the Meuse River at Maastricht and passes along the northern limits of the Vrijthof site.
A small vicus developed along the road in the second century. The site was however abandoned in late Roman times. Early in the sixth century the site of the vicus was used as a burial ground. The open space was inhabited shortly in the late seventh and early eighth century after which the site was abandoned. In a strip along the Roman road burial continued into Carolingian times. To our great surprise nothing else from the Carolingian period could be recorded although the site is located directly east of the new Carolingian basilica. Carolingian Maastricht remains archaeologically hardly visible, an enigmatic site. This observation must have great consequences for our understanding of early medieval towns in the Meuse valley.
Much attention has been paid in the book to the Merovingian burials, the objects found in the graves and the peculiarities of this cemetery which sets it apart from rural cemeteries as well as the Saint-Servatius cemetery on the hill immediately to the west of the Vrijthof.