Sword fighting in the name of science
Archaeologists from Leiden University cast replicas of Bronze Age European swords and used them in simulated fights. They wanted to find out more about prehistoric combat. Article published in the Journal of Archaeological Science on 25 March.
Experimental archaeologists Valerio Gentile and Annelou van Gijn from Leiden University got two experts to reenact fights with replica bronze swords because this would help them explain the traces of use on real Bronze Age swords. They worked with historical martial arts experts to make the combat as realistic as possible, and compared the 'damage' to their swords to the traces on original Bronze Age swords from the collection of the National Museum of Antiquities in Leiden.
Use-wear analysis
The researchers got the swordsmen to perform various strikes and studied the traces left behind on the replica swords. They then carried out a use-trace analysis with a stereo microscope and compared this with a use-trace analysis of the Bronze Age swords from the museum. This enabled them to determine which combat movement had left a certain mark on a sword and demonstrate that some original Bronze Age swords from the Museum of Antiquities were actually used in combat. Many Bronze Age swords have been found in rivers or other natural settings where they were deposited as an offering. This research has now shown that such swords were used in combat prior to deposition.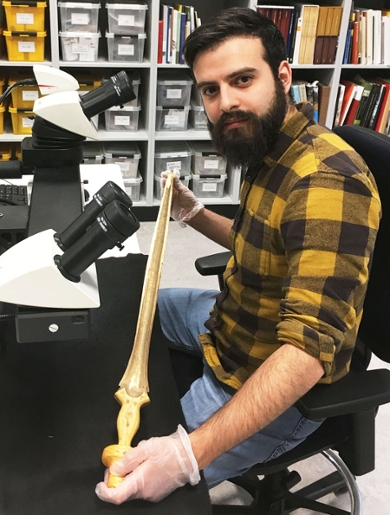 Discovering combat traditions
'It was as educational as it was exciting to see how and where the marks were made on the swords,' says Gentile, first author of the article. 'Not only are we now better able to recognise the traces of combat on ancient swords, but we can also try to determine what prehistoric combat was like. This can help us find out more about how professional and skilled prehistoric fighters were. It will also help us discover different combat traditions in Prehistoric Europe.'
Framework for further research
The study of Bronze Age weaponry answers important questions about prehistoric metalwork. The research was designed in such a way that it also provides an experimental framework that other researchers can use in further research.
Photos: Valerio Gentile/Leiden University
Text: Corine Hendriks
Mail the editorial team
The Bronze Age
Different societies around the world started to use bronze, an alloy of copper and tin, at different times in history. The Bronze Age in Europe took place from about 2000 to 800 BC. Bronze became popular when it was discovered that copper became much stronger when mixed with tin. Weapons or tools made from molten metal had a big advantage over ones made from stone, bone or wood: you could cast them, which made practically any shape possible. And as moulds allowed for the production of large quantities, this also stimulated trade.
The article entitled 'An in-depth experimental investigation and interpretation of combat traces on Bronze Age swords' was published in the Journal of Archaeological Science on 25 March.
The research would not have been possible without the help of blacksmith Jeroen Zuiderwijk, who made the replica swords, and the two sword fighters Casper van Dijk en Jaap Hoogendoorn. The project was funded by the Netherlands Organisation for Scientific Research (NWO).