Symposium Human - Wildlife conflicts in Africa 2016
The symposium "Human-Wildlife conflicst in Africa" was held on the 27th October in the Academie gebouw of Leiden University in honor of the retirement of Prof.dr.ir. Hans H. de Iongh
Human-wildlife conflicts
The main topic of the symposium was human-wildlife conflicts in Africa, especially in relation to large predators like lions. Several speakers covered this this topic from different angles, ranging from fundamental ecology (predators favor grazers), conservation in practice in Africa, socio-ecological comparison in large predator acceptance between India and Africa, up to the human-wildlife conflicts caused by diseases. Also the role of trade unions in the University arena, also one of Hans de Iongh important activities, was paid attention to.
Liber Amoricum and Royal Decoration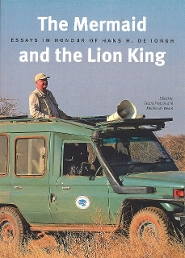 After the program, a liber amoricum, "The mermaid and the Lion king" was presented. Copies of this wonderful book can be obtained at the CML-secretary. A big surprise was that the mayor of Leiden conferred the royal distinction "Officier in de Orde van Oranje Nassau" on prof. dr. Hans de Iongh.

The symposium was organized by the department of Conservation Biology of the Institute of Environmental Sciences, Leiden University (CML). The presentations of this symposium can be downloaded as pdfs from the program below.



Download of presentations (PDF)
Hans de Iongh was named 'Officier in de Orde van Oranje Nassau' . His work on the prevention of lion extinction in Africa was one of the reasons for this award.