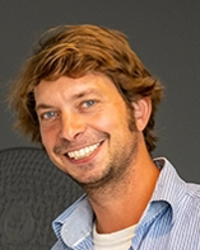 Maarten Schrama
Associate professor
Name

Dr. M.J.J. Schrama

Telephone

E-mail
Maarten graduated at the University of Groningen in 2007, where he obtained both his BSc and his MSc degree in Ecology.
Professional experience
Maarten graduated at the University of Groningen in 2007, where he obtained both his BSc and his MSc degree in Ecology. He internships were at the University of Groningen where he worked on cooperative breeding in burying beetles, the University of Aberystwyth, where he worked on fish personalities and in Hluhluwe-iMfolozi Park in South Africa where he worked on the role of termites on decomposition in savanna ecosystems.

Between 2008 and 2012, Maarten worked as a PhD researcher at the University of Groningen. The aim of his thesis was to understand the drivers behind food web assembly along a successional sequence. This research took place on the island of Schiermonnikoog, where a sequence of successional stages (a chronosequence) of 0-100 yrs presents the natural laboratory, an ideal opportunity to study this. He was able to show that cross-ecosystem linkages – in this case between the Wadden Sea and the salt marsh- are crucial for ecological succession to take place. Marine subsidy promotes the detritivore (brown) web in early succession, after which succession gets going and the herbivore (green) web takes over in intermediate successional stages. Towards late successional stages, the brown web once again takes over. Introduction of large herbivore grazers is the only way to make the system revert to the original food web composition.

After his PhD he did a postdoc at the Netherlands Institute for Ecology (NIOO-KNAW), where he studied soil legacy effects of bio-energy crops. This research showed that different crops can have major legacy effects, where some crops have positive legacy effects on both soil food webs and ecosystem services, while other crops have very negative effects. These effects should be taken into account when deciding which crop to use.

Two years ago, he received an NWO Rubicon grant to work on resistance and resilience of grassland ecosystems at the University of Manchester.. This research focused on the question how legacy effects of grassland use can interact with disturbances – and how this affects ecosystem functioning and invasibility of exotic species.
Research topic
Human pressures affect ecosystem in a wide range of ways, and often interact. Different pressures include the use of pesticides and other chemicals, eutrophication of water bodies, and changes in land use. My research intends to understand how these different pressures affect the structure of the aquatic food web. The approach will be twofold. I will use the wealth of information in the Netherlands gathered in different databases to investigate the links between pesticides, nutrient pollution, and aquatic biodiversity. Also, I plan to set up field and lab experiments to test hypotheses that are generated using the databases.
Publications
Click following links for list of publications
Associate professor
Science
Centrum voor Milieuwetenschappen Leiden
CML/Environmental Biology
Work address
Van Steenis
Einsteinweg 2
2333 CC Leiden
Room number B3.10
Contact
No relevant ancillary activities