Dies Natalis: 'The big questions call for collaboration'
Universities cannot survive in this highly competitive world without collaboration. And the ultimate aim is to make the world a safer and more sustainable place. This was Rector Carel Stolker's message during the 441st Dies Natalis.
Answers
What is the role of science? Rector Magnificus Carel Stolker considered this question in his speech during the celebration of the 441st anniversary of the foundation of Leiden University. He referred to some worrying developments, such as war on the borders of Europe and the enormous influx of refugees that is shaking the foundations of the European Union. 'Society feeds science with questions and science creates order and strives to provide answers.'
Fundamental research
Two-way traffic between science and society is a good thing, Stolker believes. The National Science Agenda is an example of this exchange: it comprises 140 questions for scientists based on thousands of questions submitted by people living in the Netherlands. This type of initiative can broaden the support for research and strengthen the relationship between universities and society. But Stolker also understands the skepticism: is there enough scope for curiosity-driven, often fundamental research?
Surviving in a competitive world
Universities compete with one another for the best scientists and the most motivated students as well as for the always scarce research funding. But especially in this world of ultimate competition we cannot survive if we do not join forces, according to Stolker. He referred to the many fruitful partnerships,within and outside the university, such as the alliance with the TU Delft and Erasmus University and with the Leiden BioScience Park. It's about making the world a safer, healthier, more sustainable, more prosperous and more just place to live.'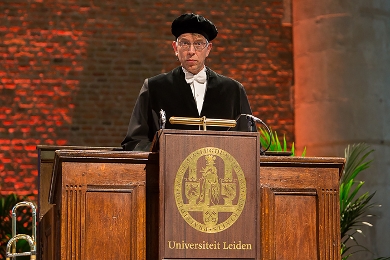 Dies lecture: farmers and nature conservation
In his Dies lecture Geert de Snoo, Professor of Conservation Biology and Dean of the Faculty of Science, gave a good example of how science can make the world more sustainable. De Snoo researches how farmers can contribute to nature conservation. They need to reserve larger areas for nature and focus on creating a healthier soil culture. Apart from benefiting nature and the environment, this will also give them a business of which they can be proud, according to De Snoo.
Honorary Doctor Jennifer Tour Chayes
Jennifer Chayes, Director of Research at Microsoft, is also someone who brings about innovation both within the scientific world and in society. Honorary Supervisor Frank den Hollander, Professor of Probability Theory and Statistical Physics, set out why she deserves a Leiden Honorary doctorate. Chayes and her colleagues have achieved enormous breakthroughs at the interface between maths and physics. And she has shown that even after moving from the world of science to the world of business, scientific development can still go ahead: since joining Microsoft Chayes has brought about many major breakthroughs, now in the field of complex data networks.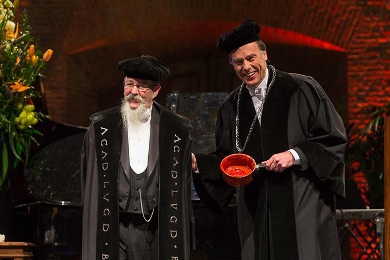 Retirement of beadle Willem van Beelen
During this 441st Dies Natalis, Stolker also expressly thanked the beadle Willem van Beelen. The beadle is the University's most visible official. After 27 loyal years, Van Beelen will shortly be retiring. Stolker: 'He has guided many of the world's great people - Nelson Mandela, Ban ki-Moon - and he has done this with his characteristic dignity and calm. Van Beelen has instructed thousands of PhD candidates in the rituals of a Leiden doctoral defence. He has also assisted the University's rectors and has saved many a hesitant young professor from imminent disaster.'