Dies lecture: 'Connect agriculture with nature'
'Make more room for nature on farmland and you'll be surprised at the result.' This was the advice from Geert de Snoo in his Dies lecture.
On 8 February the Dean of the Faculty of Science delivered the keynote lecture at the 441st Dies Natalis of Leiden University in the Pieterskerk. The title of his lecture was: ' Successful nature conservation'.
People make their own nature
Agrarian areas are important to the Dutch natural landscape for the simple reason that they occupy such a large portion of the land area, according to Professor of Conservation Biology De Snoo. In his lecture he set out how nature conservationists initially maintained landscapes that people had created themselves. But this proved inadequate for protecting vulnerable plants and animals. Scientists advocated a more dynamic vision of nature conservation, with the emphasis on stimulating natural processes. In the Netherlands this new way of thinking ultimately led to a national Ecological Network of connected conservation areas. 'To some extent we are creating our own image of a natural ecosystem,' De Snoo commented.
Agriculture displacing nature
And nature protection in reserves does work, De Snoo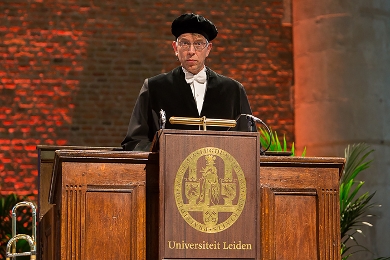 concluded. 'Nature in the Netherlands is doing well. Many species are thriving and woodlands and natural areas are expanding. It is just in agrarian areas that we are seeing a decline. That's because today's more intensive agriculture leaves little room over for nature.' De Snoo has observed that animal species that are dependent on agricultural areas are suffering, in particular meadow birds like the black-tailed godwit.
'We could create bigger reserves for these rare species. But apart from that, I would say we should keep our distance and make sure we provide good conditions for nature in rural areas. And then, see what happens and we could well be surprised. If it means we have a lot of hares, that's fine.'
Cleaner processes
There are two ways of arriving at these conditions, according to De Snoo. First he would like to see more space for field margins, hedgerows and ditches, where nature can proliferate freely. 'Currently, just a couple of per cent of the land area of agricultural ground is reserved for nature. And Europe is saying too: "Make that 5 per cent."' De Snoo also advocates cleaner processes to promote soil life, for example. 'We need a lot more worms and insects in and on the soil.' More organic material, such as animal manure rather than synthetic manure, can generate a soil with more life forms.
No spraying on Sunday
More insects in and on the soil means more food for birds, De Snoo explained, but soil processes are also interesting for farmers. 'The trick is to organise agriculture such that the natural resistance of the soil increases.' Crops will then be better protected against all kinds of pests, so that farmers need to spray less, he explained. 'Farmers have to spray in order to prevent damage, but they would prefer not to have to do it. They, too, see the hazard signs on the packaging and they make sure they're not spraying their fields on a fine Sunday afternoon when they know everyone is outdoors enjoying a bicycle ride in the countryside.'

'We have done some excellent Leiden research, including with psychologists, that shows that farmers want to be proud of their business and the natural environment that is part of it. Let us make use of this; we can make a lot of headway on the behavioural side.' In concluding, De Snoo summed up: Connecting nature protection with sustainable agriculture will benefit nature, the environment and agriculture.