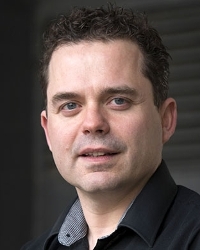 Mario van der Stelt
Professor of Molecular physiology
Name

Prof.dr. M. van der Stelt

Telephone

E-mail
There are still many life-threatening diseases, such as Alzheimer's disease, metabolic syndrome and cancer, for which there are no suitable therapies available. Mario van der Stelt aims to discover new molecules that can act as drug candidates for these type of diseases.
More information about Mario van der Stelt
Curriculum Vitae
Personal information
Nationality: Dutch
Date of birth: 20 September 1975
Education
2002 PhD, Faculty of Chemistry, Utrecht University, The Netherlands, 12 April 2002 (cum laude)
Thesis title: 'The Endocannabinoid Anandamide. Metabolism & Neuroprotection'
Advisors: Prof. J.F.G. Vliegenthart, Prof. G.A. Veldink
1998 MSc in Chemistry, Faculty of Chemistry, Utrecht University, The Netherlands (cum laude)
Current and previous research positions
2012 – now Tenure Track Associate Professor, Leiden Institute of Chemistry, Leiden University, The Netherlands
2004 – 2012 Project-leader of drug discovery teams at Merck Research Laboratories, Oss, The Netherlands
2002 – 2004 Post-doctoral Researcher, Endocannabinoid Research Group, Institute of Bio-organic Chemistry, Pozzuoli, Italy (Prof. Dr. V. Di Marzo)
Grants, awards, recognitions since 2010
2017 ICRS 2017 Young Investigator Award
2016 ZonMw Middelgroot grant (co-applicant), main applicant N.S. Pannu (k€ 372)
2016 Hoffman-La Roche (k€ 145)
2015 NWO NCI-TA Grant with Ovaa/Neefjes (NKI/LUMC) (k€ 576)
2015 Roche Post-doc Fellowship program with Prof. Dr. A.P. IJzerman (LACDR) (k€ 233)
2014 NWO-CW ECHO Grant (k€ 260)
2014 Gravitation grant, Institute of Chemical Immunology (k€ 305)
2013 NWO-CW ECHO-STIP Grant (k€ 260)
2013 EU Innovative Medicines Initiative: European Lead Factory with H.S. Overkleeft (k€ 829)
Contribution to teaching and supervision since 2012
Coordinator and Lecturer of MSc course for students of Molecular Science and Technology (MST), Life Science and Technology (LST) and BioPharmaceutical Sciences (BPS): Advanced Medicinal Chemistry
Lecturer of Honours Class, Leiden University
Lecturer of two MSc courses of MST and LST: Modern Drug Discovery and Chemical Genetics
Coordinator and Lecturer of BSc course for students of BPS: Design and Synthesis
Supervision of 18 PhD-students, 4 post-doctoral fellows, 1 research technician and 22 MSc students and 16 BSc students
Other responsibilities since 2012
Founder and head of the department of Molecular Physiology (2016)
Organisation Conference of the International Cannabinoid Research Society (ICRS) in 2018.
Chairman of Cancer Drug Discovery Initiative (2014). This is a public private collaboration of Leiden University with the Netherlands Cancer Institute and the Pivot Park Screening Centre and three small medium enterprises (Covalution Pharma, Lead Pharma and NTRC)
Co-founder of the European Lead Factory, the largest public private partnership in Europe in the area of drug discovery (2013)
Coordinator Faculty Profiling Program Endocannabinoids (2013).
Member Program Committee CHAINS (2016) –With as much as 1500 participants, CHAINS is the largest scientific chemistry congress in the Netherlands
Board member of the Netherlands Research Council Chemical Sciences, Study group Pharmacochemistry (2015)
Member of Local Animal Welfare Body (2015)
Member PhD Supervision Board of Leiden Academic Centre for Drug Research
Review editor of Frontiers in Chemistry, Chemical Biology, Review editor of Frontiers in Neuroscience;
Member editorial board Cannabis, & Cannabinoid Research;
Regular reviewer for international grant applications and member of PhD-evaluation committees
Reviewer for various journals, including Nature Chemical Biology, Journal of American Chemical Society, Journal of Medicinal Chemistry and Chemical Science
Publication record including five recent representative publications
> 65 papers and book chapters > 4500 citations (average of 76 citations/article), 6 patents, h-index = 27 (Google Scholar). Full publication record: Leiden University
Esbroeck A.C.M. van, Janssen A.P.A., Cognetta A.B. 3rd, Ogasawara D., Shpak G., Kroeg M. van der, Kantae V., Baggelaar M.P., Vrij F.M.S. de, Deng H., Allarà M., Fezza F., Lin Z., Wel T. van der, Soethoudt M., Mock E.D., Dulk H. den, Baak I.L., Florea B.I., Hendriks G., De Petrocellis L., Overkleeft H.S., Hankemeier T., Zeeuw C.I. de, Di Marzo V., Maccarrone M., Cravatt B.F., Kushner S.A., Stelt M. van der, Activity-based protein profiling reveals off-target proteins of the FAAH inhibitor BIA 10-2474. Science, 2017, 356, 1084-1087.
Soethoudt M., Grether U., Fingerle J., Grim T.W., Fezza F., De Petrocellis L., Ullmer C., Rothenhäusler B., Perret C., Can Gils N., Finlay D., MacDonald C., Chicca C., Dalghi Gens M., Stuart J., Vries H. de, Mastrangelo N., Xia L., Alachouzos G., Baggelaar M.P., Martella A., Mock E.D., Deng H., Heitman L.H., Connor M., Di Marzo V., Gertsch J., Lichtman A., Maccarrone M., Pacher P., Glass M., Stelt M. van der, Cannabinoid CB2 Receptor Ligand Profiling Reveals Biased Signaling and Off-target Activity. Nature Comm, 2017, 8, 13958.
Ogasawara D., Deng H., Viader A., Baggelaar M.P., Breman A., Dulk H. den, Nieuwendijk A.M. van den, Soethoudt M., Wel T. van der, Zhou J., Overkleeft H.S., Sanchez-Alavez M., Mo S., Nguyen W., Conti B., Liu X., Chen Y., Liu Q.S., Cravatt B.F., Stelt M van der., Rapid and profound rewiring of brain lipid signalling networks by acute diacylglycerol lipase inhibition. Proceedings of the National Academy of Sciences of the United States of America. 2016, 113, 26-33.
Baggelaar M.P., Chameau P.J., Kantae V., Hummel J., Hsu K.L., Janssen F., Wel T. van der, Soethoudt M., Deng H., Dulk H. den, Allara M., Florea B.I., Di Marzo V., Wadman W.J., Kruse C.G., Overkleeft H.S., Hankemeier T., Werkman T.R., Cravatt B.F., Stelt M. van der, Highly Selective, Reversible Inhibitor Identified by Comparative Chemoproteomics Modulates Diacylglycerol Lipase Activity in Neurons. Journal of the American Chemical Society. 2015, 137, 8851-8857.
Baggelaar M.P., Janssen F.J., Esbroeck A.C. van, Dulk H. den, Allara M., Hoogendoorn S., McGuire R., Florea B.I., Meeuwenoord N., Elst H. van den, Marel G.A. van der, Brouwer J., Di Marzo V., Overkleeft H.S., Stelt M. van der, Development of an activity-based probe and in silico design reveal highly selective inhibitors for diacylglycerol lipase-alpha in brain. Angewandte Chemie International Edition. 2013, 52, 12081-12085.
Presentations including five presentations at international conferences since 2012
> 20 presentations at universities, companies and institutes, and invited, keynote and plenary lectures at international conferences since 2012
Development of highly selective DAG-lipase inhibitors for in vivo studies, Gordon Conference on Cannabinoid Function in the CNS, May 2015, Lucca, Italy, invited lecture
Discovery of in vivo active and selective diacylglycerol lipase-alpha inhibitor, European Federation of Medicinal Chemistry, August 2016, Manchester, United Kingdom, invited lecture
Novel molecular tools to study the biological role of the Endocannabinoid system, Gratama Workshop (Dutch-Japanese Chemistry Conference), March 2013, Tokyo, Japan, keynote lecture
Professor of Molecular physiology
Wiskunde en Natuurwetenschappen
Leiden Institute of Chemistry
LIC/Molecular Physiology
Work address
Science Campus
Einsteinweg 55
2333 CC Leiden
Room number DE3.19
Contact