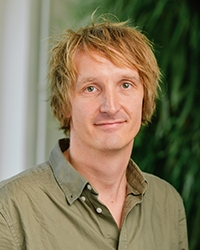 Johan de Jong
University Lecturer Continental Philosophy
Name

Dr. J.E. de Jong

Telephone

E-mail

ORCID iD
Johan de Jong is assistant professor in Continental Philosophy at Leiden University. He also holds a research fellowship in the project "Nietzsche: Experiment en nihilisme" at the Radboud Universiteit Nijmegen.
More information about Johan de Jong
Fields of interest
Contemporary Continental Philosophy

History of Philosophy

Methods in (Continental) Philosophy

Plato, Aristotle, Kant, Hegel, Marx, Kierkegaard, Nietzsche, Heidegger, Derrida

Dialectics, Phenomenology, Critical theory, Hermeneutics, Existentialism, Deconstruction
Research
My teaching and research is in 19th- and 20th-century Continental philosophy, which for me is always also a dialogue with the history of philosophy broadly.
One of my enduring interests is what it means to think, in the double sense of (1) how to think or to think well (with what method, what kind of writing or style or logic), and (2) why or for what do we think - is there a need or task or responsibility of philosophy?
In my forthcoming book (see below), I explore the possibilities of a critique of Derridean deconstruction from the perspective of the work of Hegel and Heidegger, given that all three of them conceive their thought as a "movement" rather than as a presentation of results or conclusions.
In the research project "Nietzsche: Experiment en nihilisme" at the Radboud Universiteit in Nijmegen, I am further developing work on what it means to think, and how Nietzsche's unique and diverse methods and styles relate to his conception of the task of philosophy in a nihilistic culture.
CV
After BA and Research MA degrees in philosophy at the University of Amsterdam, I earned a PhD there in 2015 (all cum laude). I taught at the UvA until 2016, and was an assistant professor in the History of Modern Philosophy and Liberal Arts and Sciences at Utrecht University, before coming to Leiden in 2019.
Key publications
Book out now:
The Movement of Showing: Indirect Method, Critique, and Responsibility in Derrida, Hegel, and Heidegger. SUNY series in Contemporary French Thought. Albany: SUNY Press, 2020.
University Lecturer Continental Philosophy
Faculty of Humanities
Instituut voor Wijsbegeerte
Work address
P.J. Veth
Nonnensteeg 1-3
2311 VJ Leiden
Room number 2.22
Contact