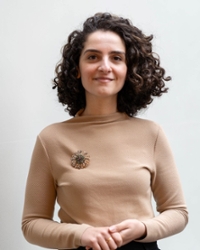 Fatma Çapkurt
Lecturer
Name

Mr. F. Çapkurt

Telephone

E-mail

ORCID iD
Fatma Capkurt has been a PhD candidate at the department of Constitutional – and Administrative law since September 2018, prior to which she was a research staff member at the department. She has been awarded the NWO Research Talent Grant to conduct research on the regulation of data in the public sector.
Fatma Capkurt obtained her bachelor in law (cum laude) at Tilburg University. During her bachelor, she successfully followed the faculty's honours program and worked as a student-assistant at the department of Public Law, Jurisprudence and Legal History at Tilburg University. After her bachelor's degree, Fatma followed the Research Master in Law at Tilburg University and KU Leuven. During the Research Master, she worked as a research assistant at the Tilburg Centre for Law and Economics (TILEC) and at the department of Public law, Jurisprudence and Legal History. She wrote several articles in the field of Energy law, Dutch Administrative Procedure Law for Dutch journals such as the Journal for Administrative law and the Journal for European and Economic law. After having studied a semester with a full scholarship at renowned French grande école Sciences Po, she graduated cum laude for her LLM degree.
PhD project
Fatma worked as a researcher/teacher at the department of Constitutional- and Administrative law from September 2017 to September 2018. In June 2018, she has been awarded the NWO Research Talent Grant. In this research project, she investigates the legal implications of data-driven government. Digitalization promotes smarter governance, but it might increase the longstanding information asymmetry between government and citizens. Public bodies often face legal uncertainty regarding data-collection and exchange, since this has not been systematically regulated. This creates a hurdle for public bodies to fulfill the potential that data offers. This project investigates the possibilities to further regulate data-driven government.
Lecturer
Faculteit Rechtsgeleerdheid
Instituut voor Publiekrecht
Staats- en Bestuursrecht