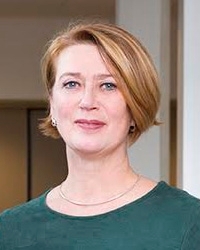 Carolien Rieffe
Professor by Special Appointment of Social and Emotional Development of Children with Auditory or Communication Impairments
Name

Prof.dr. C.J. Rieffe

Telephone

E-mail

ORCID iD
Carolien Rieffe is a professor by special appointment in the unit Developmental and Educational Psychology of the Institute of Psychology at Leiden University. Rieffe is also a visiting professor at the UCL Institute of Education in London.
Short CV
Carolien Rieffe is professor by special appointment in the unit Developmental and Educational Psychology of the Institute of Psychology at Leiden University. Carolien received her MSc Degree (with honours) in Psychological Methodology from the University of Amsterdam, which included an exchange scholarship at Hofstra University (NY, USA) and obtained her PhD from VU University Amsterdam. She had a tenured position at the Institute of Education (5* ranking in the UK), University of London, UK, as an assistant professor (2001-2004), until she started at Leiden University in 2004. In 2010 the NSDSK (Dutch Foundation for the Deaf and Hard of Hearing Child, Amsterdam) installed an endowed chair for Carolien at Leiden University, who then became professor by special appointment in social and emotional development. Since 2015, she is also Honorary Professor at UCL, University of London, UK.
Carolien obtained different grants (e.g. NWO (VIDI laureate); ZonMw) and won several prizes (e.g. the most influential research paper in 25 years in Kind and Adolescent; best teacher award; and Award for Smartest City Project of the Netherlands).
She is chair of the Honours College advisory board, member of the LCDS (Leiden Center for Data Science) and is a member of several committees on a national level, such as Female Autism Network of the Netherlands, Smart Cities advisory board, Dutch Commissariat for the Media, and works in longstanding close collaborations with professional organizations, e.g. NSDSK, Kentalis, ENT-LUMC (Leiden University Medical Center), Center for Autism, and Anne Frank Foundation, and academic institutions abroad.
Research
Carolien leads her own research lab (www.focusonemotions.nl). Research in this lab is dedicated to the functionality of emotions and its impact on social development and mental health in children of all ages, from babies to adolescents. Current research focuses on the various aspects of emotional intelligence, such as emotion awareness, coping, display rules, empathy, and anger expression. Besides typically developing children and adolescents, the group has a strong interest in the social and emotional development of those with autism, deafness, or specific language impairments. Another line of research in this area is focused on cultural differences. Over the last couple of years, Carolien's lab also developed a close collaboration with Computer Science (LIACS (Leiden Institute of Advanced Computer Science) and TU Twente, enabling researchers in her lab to apply new techniques for monitoring children's social behavior, such as the use of Radio Frequency Identification Devices (RFIDs).
For more information, visit the website of the Emotional Development research lab.
Teaching
Rieffe teaches courses in social and emotional development, with a special focus on clinical groups, such as children with autism or hearing loss, and at different levels, i.e. Bachelor, Master, PhD, and Honours level.
Media outreach (most recent)
Relevant links
Leiden Psychology Blog
LinkedIn profile
Research Gate profile
UCL profile
www.focusonemotions.nl
Professor by Special Appointment of Social and Emotional Development of Children with Auditory or Communication Impairments
Faculteit der Sociale Wetenschappen
Instituut Psychologie
Ontwikkelings- & Onderwijspsychologie
Work address
Pieter de la Court
Wassenaarseweg 52
2333 AK Leiden
Room number 3B47A
Contact
No relevant ancillary activities