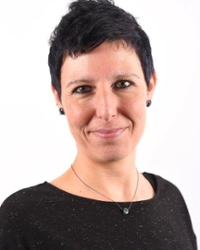 Berna Güroglu
Professor of Neuroscience of Social Relations
Name

Prof.dr. B. Güroglu

Telephone

E-mail

ORCID iD
Berna Güroğlu is full professor in the Developmental and Educational Psychology unit of the Institute of Psychology at Leiden University.
"Social interactions form the cornerstone of relationships which are among the most significant social developmental contexts across the life span."
Berna Güroğlu is full professor in the Developmental and Educational Psychology unit of the Leiden University – Institute for Psychological Research. She received her BA in mathematics at Koç University and MA in developmental psychology at Boğaziçi University in Istanbul, Turkey. In 2008 she received her PhD cum laude in developmental psychology at Radboud University Nijmegen with her thesis investigating the development of peer relationships (friendships, based on mutual likes, and antipathy relationships, based on mutual dislikes) in school classes of children and adolescents. Subsequently she joined the Brain and Development Research Center in Leiden University as a postdoctoral researcher examining the neurocognitive development of social decision-making using economic exchange paradigms and brain imaging techniques. In 2010 she received a NWO-VENI grant for her project investigating the neural mechanisms of social interactions with peers. She was promoted to assistant professor in 2010, to associate professor in 2014 and to full professor in 2018.
Research
Her research line relates to brain development and neural processes involved in social and emotional development across childhood, adolescence, and young adulthood. She incorporates measures of dyadic peer relationships and social networks (e.g., sociometrics) with neuroimaging methods to investigate the neural correlates of functioning in the context of peer relationships in adolescence. She is currently a leading investigator for her project within the starting impulse grant of the National Research Agenda (NWA) where she examines the anti-bullying programs in the Netherlands and the neural and physiological underpinnings of chronic victimization.
For CV, publication list and full details of her research program, see Brain and Development Lab.
Professor of Neuroscience of Social Relations
Faculteit der Sociale Wetenschappen
Instituut Psychologie
Ontwikkelings- & Onderwijspsychologie
Kinderopvang de Kattekop is een stichting en wordt vertegenwordigd door het bestuur.