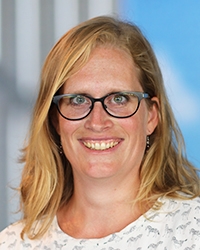 Anne Land-Zandstra
Assistant professor
Name

Dr. A.M. Land-Zandstra

Telephone

E-mail

ORCID iD
My research focuses on authenticity in informal science education in two areas: real objects in museums and citizen science. I am also leading research on the impact of science communication.
Authenticity in museums
"Is it real?" is one of the most heard questions in science museums. Science museums consider it important to make sure visitors can experience real objects and real phenomena. But there is not much empirical evidence on why authenticity is important, how visitors perceive authentic objects, or how it affects their experience. In a research collaboration with Naturalis Biodiversity Center, I am studying these questions. We are studying how visitors perceive real objects versus replicas. And we are experimenting with different ways to support the interaction of visitors with real objects, e.g. through questions on object labels.
Citizen Science
When citizens are collaborating with scientists in research projects, we call that citizen science. A few examples of citizen science projects are national bird counts, water quality monitoring by volunteers, or online analysis of satellite images looking for galaxies. Although the concept of volunteers contributing to scientific research is not new, the opportunities for citizen science have increased tremendously over the last decades. New technologies such as internet, and smartphones have made it easier to collaborate with large groups of citizens. Citizen science projects usually have two different goals: scientific output (data, analyses) for the scientists, and outreach/learning for the citizens. I am interested in the latter and studying motivation and learning outcomes of citizen scientists. I am collaborating with different CS projects (iSPEX, Grote Griepmeting, Schone Rivieren) to study why citizen scientists participate in these projects, and what they get out of them.
Impact of science communication
The goal of science communication is to affect and change the general public's views, knowledge, attitudes or behaviour regarding science or scientific findings. In order to determine if and how this impact is being reached, the department of Science Communication & Society at Leiden University, in collaboration with the department for Social, Health and Organisational Psychology at Utrecht University, are developing an instrument and toolbox to measure the output, outcomes and impact of science communication activities in the Netherlands.
Assistant professor
Science
Instituut Biologie Leiden
IBL SCS
Work address
Sylvius
Sylviusweg 72
2333 BE Leiden
Room number 3.4.17
Contact
No relevant ancillary activities