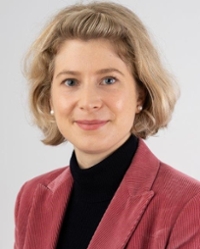 Anna-Alexandra Marhold
Assistant Professor
Name

Mr.dr. A.A. Marhold

Telephone

E-mail
Anna Marhold is Assistant Professor at the Institute of Public Law and the Grotius Centre for International Legal Studies at Leiden University. Her specialization is international economic law, with a particular focus on international trade law at the intersection of energy and environmental regulation.
Education and Career
Anna Marhold obtained her PhD in Law at the European University Institute (EUI) in Florence (2016). In 2015, she was a Marie Curie Early Stage Research Fellow at the Graduate Institute in Geneva, Switzerland, in the framework of DISSETTLE (Dispute Settlement in Trade: Training in Law and Economics). In 2013-2014, Anna was a recipient of the EU-US Fulbright-Schuman Grant and a visiting scholar at NYU School of Law, USA. She is a graduate in Law (LLB, LLM), specializing in international trade and investment law, and in Russian (BA, MA) from the University of Amsterdam (UvA). Prior to joining Leiden in 2019, Anna was Assistant Professor at the Tilburg Law and Economics Centre (TILEC). She speaks Dutch, English, Czech and Russian.
Anna has published widely in the field of international economic, trade and energy law and EU external trade relations. Her forthcoming monograph titled Energy in International Trade: Concepts, Regulation and Changing Markets (Cambridge University Press) examines energy regulation in international trade law against the backdrop of energy markets that have radically changed over the past decades.
Research Areas and Interests
Anna is particularly interested in the ongoing crisis in international trade law; security interests and other non-strictly trade-related objectives in international trade law; EU Energy Policy and its interaction with WTO obligations; energy and environmental regulation in Preferential Trade Agreements (PTAs) and "megaregional agreements"; the future of the Energy Charter Treaty; the OPEC cartel; law and economics approaches to energy regulation; the sustainable energy transition; access to supplies and natural resources; public goods; regulation of network industries; squaring energy security with sustainable development and consumer protection; regulation of transit of energy; the Energy Community Treaty and European external energy relations, particularly with the European Neighborhood.
Educational Activities
At Leiden, Anna Marhold teaches Public International Law-related subjects on both Bachelor's and Master's level.
Anna is also a Visiting Adjunct Professor at Vermont Law School (USA), where she teaches on global and comparative energy and environmental law, and a recurring guest lecturer in WTO law at the Clingendael Netherlands Institute of International Relations.
Assistant Professor
Faculteit Rechtsgeleerdheid
Instituut voor Publiekrecht
Grotius Centre for Intern Legal Studies
Marhold A.A. (6 September 2019), Guest Post: Energy Policy in EU Free Trade Agreements. International Economic Law and Policy Blog [blog entry].
Marhold A.A. (2019), Externalising Europe's energy policy in EU Free Trade Agreements: A cognitive dissonance between promoting sustainable development and ensuring security of supply?, Europe and the World: A Law Review 3(1/7): 1-18.
Hancher L. & Marhold A. (2019), A common EU framework regulating import pipelines for gas? Exploring the Commission's proposal to amend the 2009 Gas Directive, Journal of Energy & Natural Resources Law 37(3): 289-303.
Marhold A. & Weiss F. (2019), Energy and Fossil Fuels as a Topic of WTO Accession Protocols. In: Bungenberg M., Krajewski M., Tams C.J., Terhechte J.P., Ziegler A.R. (Eds.) European Yearbook of International Economic Law (EYIEL) 2018. no. 9 Cham: Springer. 61-80.
Marhold A. (2018), The interplay between liberalization and decarbonization in the European internal energy market for electricity. In: Mathis K., Huber B.R. (Eds.) Energy Law and Economics. Economic Analysis of Law in European Legal Scholarship no. 5 Cham: Springer. 59-75.
Marhold A. (2018), WTO Subsidy Rules: Implications for Energy. In: Hancher L., Hauteclocque A. de, Salerno F.M. (Eds.) State Aid and the Energy Sector. Oxford: Hart Publishing. 91-110.
Marhold A.A. (20 December 2017), Energy dual pricing as a harmful fossil fuel subsidy: What the WTO can do. International Centre for Trade and Sustainable Development (ICTSD). Geneva: ICSTD [blog entry].
Marhold & A.A. (20 February 2017), 'Na Brexit neemt de EU pijnlijk afscheid van een belangrijke energiepioneer' interview met Anna Marhold. Interviewed by Energeia [interview].
Marhold A. (2017), Fossil Fuel Subsidy Reform in the WTO: Options for Constraining Dual Pricing in the Multilateral Trading System, International Centre for Trade and Sustainable Development Issue Paper : 1-26.
Marhold A. (2017), Hello, Goodbye? Brexit en mogelijke gevolgen voor de Europese energiemarkt, SEW: Tijdschrift voor Europees en economisch recht 65(2): 50-56.
Marhold A. (2017), Review of: V. Pogoretskyy (2017) Freedom of Transit and Access to Gas Pipeline Networks under WTO Law, World Trade Review 16(4): 771-774.
Marhold A. (2017), Review of: P. Drahos (ed.) (2017) Regulatory Theory - Foundations and Applications, Tijdschrift voor Toezicht 2017(3): 40-42.
Marhold A. (2017), The Nexus between the WTO and the ECT in Global Energy Governance. In: Adinolfi G., Baetens F., Caiado J., Lupone A., Micara A.G. (Eds.) International Economic Law: Contemporary Issues. Cham: Springer & G. Giappichelli Editore. 189-210.
Marhold & A.A. (28 April 2016), 'COMMENT: Towards a coherent system of global energy trade and investment rules'. Borderlex.eu: Borderlex.eu [blog entry].
Marhold A. (2016), EU regulatory private law in the energy community: The synergy between the CEER and the ECRB in facilitating customer protection. In: Cremona M., Micklitz H.W. (Eds.) Private Law in the External Relations of the EU. Oxford: Oxford University Press. 249-272.
Lavrijssen S., Marhold A. & Trias Lopez A. (2016), The Changing World of the DSO in a Smart Energy System Environment: Key Issues and Policy Recommendations: A CERRE report. Brussels: CERRE - Centre for Regulation in Europe.
Marhold A. (2016), The Nexus between the WTO and the Energy Charter treaty in Global Energy Governance: Analysis and policy implications, International Centre for Trade and Sustainable Development (ICTSD) Issue Paper 7: 1-32.
Marhold A. (2016), WTO law and economics and restrictive practices in energy trade: The case of the OPEC cartel, Journal of World Energy Law and Business 9(6): 475-494.
Marhold A. (2015), Fragmentation and the Nexus between the WTO and the ECT in Global Energy Governance: A Legal-Institutional Analysis Twenty Years Later, The Journal of World Investment & Trade 16(3): 389-435.
Marhold A.A. (30 September 2013), 'The World Trade Organization and Energy: Fuel for Debate'. ESIL Reflections. Geneva: European Society of International Law [blog entry].
Cantore C.M. & Marhold A. (2013), The WTO at a Crossroads: Destination, Doha. Pit Stop, Bali - Opportunities for Reform of the World Trading System, Policy Brief / EUI Global Governance Programme 2013(2): 1-8.
Marhold A. (2012), In Too Deep – Russia, the Energy Charter Treaty and the Nord Stream Gas Pipeline. In: Mälksoo L., Ziemele I., Žalimas D. (Eds.) Baltic Yearbook of International Law. no. 12 Leiden: Brill | Nijhoff. 303-315.
Marhold A. (2012), Review of: P. Aalto (ed.) (2012) Russia's Energy Policies - National, Interregional and Global Levels, Oil, Gas & Energy Law 2012(5).
Guest Lecturer
Visiting Adjunct Professor