Research project
Children's Rights Monitor 2013
The Children's Rights Monitor provides a thematic overview of the implementation of the UN Convention on the Rights of the Child in the Netherlands.
Duration

2013

Contact

Funding

De Kinderombudsman

Partners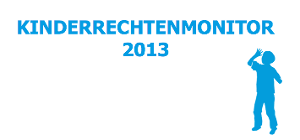 Leiden University's department of Child Law on request of the Children's Ombudsperson has published the Advice Children's Rights Monitor 2013, in collaboration with Statistics Netherlands. This advice is the basis on which the Children's Ombudsperson forms his rapport and conclusions in the Children's Rights Monitor 2013. In this edition a comparison is made to 2012, the first measurement.
The Advice Children's Rights Monitor 2013 shows if there has been progress in comparison to 2012, by the description of new policies and research. It contains an analysis of new numbers that indicate the compliance of children's rights in the Netherlands. The advice is divided into six chapters on the following themes: 1. Family situation and alternative care; 2. Protection against exploitation and violence; 3. Deprivation of liberty and juvenile justice; 4. Adequate standard of living; 5. Education; 6. Young immigrants.