Research project
Field Labs: Testing Intersectional Approaches to Inclusive Actions
Subproject of the NWO Smart Culture Grant research project 'The Critical Visitor'.
Duration

2020 - 2025

Funding

NWO Smart Culture Grant

Partners

Prof. dr. Hester Dibbits (Amsterdam University of the Arts and Erasmus University) and Dr. Dirk van den Heuvel (TU Delft and Het Nieuwe Instituut)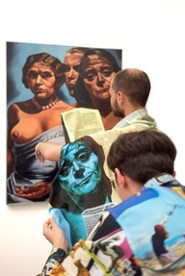 Field Labs: Testing Intersectional Approaches to Inclusive Actions at museum/archive partner's sites to evaluate current practices with SWOT analysis, further refine for broader application, and inventory recommended intersectional approaches relating to cultural solidarity, digitization for decolonizing, institutional transformation, and accessible storytelling; resulting in a published white paper bundle.
| | |
| --- | --- |
| Intersectional Approaches: Theory Lab 1 | Host: RCMC, Tropen Museum, Feb. 2020 |
| Intersectional Approaches: Solidarity Methods Lab 2 | Host: RCMC, Volkenkunde Museums, Oct. 2020 |
| Digitizing Archives to Decolonize: Practice Lab 3 | Host: Charles Jeurgens, Dutch National Archives, Jan. 2021 |
| Inclusion/Diversity Process Toolkit: Implementation Lab 4 | Host: Inez Blanca van der Scheer from Studio-i, Olle Lundin from van Abbemuseum, Jan. 2022 |
| Accessible Storytelling: Development Lab 5 | Host: Imara Limon & Mirjam Sneeuwloper, The Amsterdam Museum, Jan. 2023 |
| Final presentation of white paper bundle | Launch party: Tropen, Spring/Summer 2024 |
Participation is reserved for invited speakers and consortium partners, each of whom can bring a new buddy along for Labs 2-5. Email Dibbits for further information.