Film, video and Instagram: students create an online film programme
Film and Photographic Studies master's students Vanessa and Deirdre created a film programme about the Jewish artist Charlotte Salomon for the Jewish Cultural Quarter. Due to the pandemic, they could no longer hold a physical screening and they decided to move their project online.
Creating a film programme for an actual museum
'For the course Curating Film and Video, we look into subjects such as film programming, exhibition strategies, film heritage and archiving, and the politics of film and video art festivals', Vanessa and Deirdre explain. 'We also had to develop our own academic research project. For our project, we collaborated with the Jewish Cultural Quarter in Amsterdam and designed a film programme and video screening complementing their exhibition about artist Charlotte Salomon.'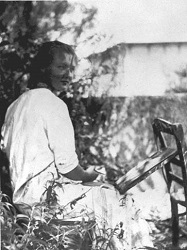 Who was Charlotte Salomon?
Charlotte Salomon (1917-1943) was a Jewish artist from Berlin. She created a series of gouache drawings called "Life? Or Theater?", most of which were painted while she was hiding in Southern France from the Nazis.
She is the main subject of an exhibition of the Jewish Cultural Quarter which focuses on her in close-up. For this exhibition, the Jewish Historical Museum in Amsterdam transformed temporarily into a cinema from the 1920s and '30s with its exhibition exploring the influence of film on Charlotte Salomon's art.
A unique collaboration
Vanessa and Deirdre got in touch with the Jewish Cultural Quarter that wanted to collaborate with film students to organise a film screening relating to their exhibition. It's the first time collaboration has taken place, a unique experience and opportunity to complete the coursework.
'It was a great foretaste of the future professional life, and a successful cooperation', Vanessa says. 'As we discussed our ideas with the museum, continuous communication was going on. We feel that the project enabled us to put our knowledge and the literature we reviewed constantly into practice.' Deirdre adds: 'This project provided a valuable learning experience and it was very helpful to experience the different way in which we had to communicate with 'external partners'. The opportunity to acquire these skills is something I would recommend to all current and future students. To combine the academic skills, obtained through Film and Photography studies, and professional life is definitely something I would like to do more of in the future.'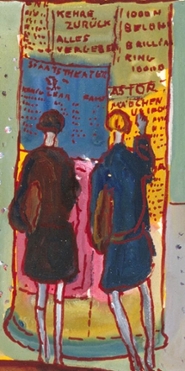 From the Auditorium to Instagram
The film screening originally would be set in the Auditorium of the Jewish Historical Museum but was unfortunately cancelled due to the COVID-19 pandemic. That didn't stop Vanessa and Deirdre, however, and they continued their project online: 'Luckily, we found a way to still make the screening possible by using an online platform, but we had to change our proposal so it would fit in an online area. Although it was delayed because of the pandemic, we are glad we could still present the film screening to this new audience.'
'We did a student takeover of the Leiden Humanities Instagram account and presented Charlotte Salomon to all the followers. We held a Q&A session to get in touch with people who are interested in arts and culture. Aside from that, students can still watch a documentary (in Dutch) about Charlotte Salomon's life or take a virtual tour of the exhibition.'
Why study

Film and Photographic Studies?
Vanessa: 'I chose to do my master's abroad at Leiden because it's one of the most renowned institutions worldwide. I have a marketing background and thus the Film and Photographic Studies programme enables me to perfectly complement my previous studies to be prepared for the work market.'
Deirdre: 'What attracted me to this programme is the wide-angle lens through which we are allowed to study the interesting phenomena of film and photography. By means of interdisciplinary study we not only take an in-depth look at specific subjects, but we get to look at the many different ways in which film and photography interact with the human experience as a whole.'
Images: Joods Cultureel Kwartier and Charlotte Salomon, Gouache uit Leven? of Theater?, 1940-1942. Collectie Joods Historisch Museum, Amsterdam © Stichting Charlotte Salomon