Laura van Broekhoven: 'For me, it's about the stories and who's telling them'
Laura van Broekhoven always knew she wanted to study archaeology, and that's exactly what she did. Now this Leiden alumna is director of the Pitt Rivers Museum, one of the four museums of the University of Oxford.
Strictly speaking, Laura van Broekhoven was an international student when she came to study in Leiden: she originally comes from Belgium. When her nine-year-old self declared that she wanted to be an archaeologist, she couldn't have imagined that she would end up living in Leiden for longer than she had done in her country of birth.
Mexico
Van Broekhoven's parents gave her a lot of freedom. She travelled around Europe alone from a young age, and spent some time in Mexico before she went to university; her mother had lived there too. She considered various archaeology programmes but chose the one in Leiden in the end: 'In Belgium you have to start with History of Art and in Oxford with Classics, but in Leiden you could do fieldwork in the first year already. That appealed to me.' Van Broekhoven was an excellent student and graduated with distinction.
Car dealership
What also appealed to Van Broekhoven about Leiden was the old, romantic centre. It was a bit of knock when she was given a room outside the city centre, in a building that students rented from the owners of the Rob Gorris car dealership on Hoge Rijndijk. But this proved to be an advantage because there were a lot of empty rooms in the building, and, as one archaeology student after the other moved in, an archaeology community began to take form away from the Faculty. It was there that she learnt how to celebrate Sinterklaas Dutch style and how to cook andijviestamppot. They also got to have barbecues on the flat roof of the car dealership. 'And on a Thursday we all went dancing in de Grote Beer.' But they took their studies seriously too and used exam questions to make their own versions of games like Trivial Pursuit.
Driven
Van Broekhoven was having a whale of a time, also because the other students were as driven as she was. And she remembers with great fondness and respect lecturers such as Maarten Jansen and Aurora Pérez Jiménez, both of whom have since retired. 'They were unparalleled in their ability to get across not only what our discipline had to offer academically but also where its weaknesses lay. We learnt to identify the colonial system that formed the basis of our discipline, and to question it and be part of a necessary process of change.' More about this later.
All about the stories
Van Broekhoven did her PhD at the Centre for Non-Western Studies (CNWS). This involved spending time in Nicaragua, where she researched indigenous forms of resistance to the Spanish rule and worked in a local museum in Juigalpa, which is twinned with Leiden. Then in 2001 the opportunity arose – and she hadn't yet turned 30 – to become curator of Middle and South America at Museum Volkenkunde, the National Museum of Ethnology in Leiden. Initially for one day a week, the role gradually expanded until the reverse was true, and she was working four days at the Museum and one at the Faculty. Van Broekhoven: 'In museums you can tell stories through objects, you can hear the voices of the makers of these objects and you can share these stories with a much wider audience than through an academic book or article.'
Who: Laura van Broekhoven (1972)
Degree: Archaeology (1990-1995); cum laude distinction
Student association: No
Prettiest spot in Leiden: 'The humpback bridge between Bakkersteeg, where my family and I lived, and Molensteeg.
CNWS
'I'm still in touch with many of the other students from my degree programme,' says Van Broekhoven. 'We've remained friends, and it has become an important international network. They've spread out all over the world.' The same was not immediately true for Van Broekhoven herself. She stayed at the University after she graduated, and that's where she also met her future husband. 'We were on the editorial board of Wampum, a student paper. That's where I met him.' They're still together. 'As PhD candidates we worked at CNWS in Nonnensteeg, with colleagues who were doing research all over the world. In our discipline Leiden was more or less the academic centre in Europe. That was hugely inspiring. CNWS isn't a name that we would use nowadays.'
Head of Research, Central and South America
Van Broekhoven became a lecturer at the Faculty in 2008 and Head of Research at Museum Volkenkunde in 2009. Then came the request from Oxford in 2015 for her to apply for the job of director of Pitt Rivers Museum. As the Museum is part of the University of Oxford, this is by no means a purely managerial role: Van Broekhoven initiates and conducts research as well as giving lectures.
Other approach
Thanks to researchers such as Jansen and Pérez Jiménez, and above all unceasing activism, museums are beginning to change, says Van Broekhoven. Wherever possible, they try to involve the people that the exhibitions are about. 'It's clear that parts of collections come from moments that are historically problematic, when objects were looted. We have to be more honest about this, and must also change our policy on returning artifacts,' she says. 'Collaboration does not necessarily have to lead to the return of artifacts. My experience is that it differs each time. With the Maasai from Kenya and Tanzania, we looked at 188 objects in our collection, for instance. Thus far, there have been six pieces about which they have said that people wouldn't just have relinquished them; they are an integral part of the family.'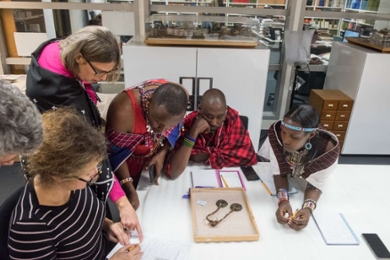 Feeling at home
It was a tough decision to take the job at Oxford. Van Broekhoven's husband worked (and still works) at the Faculty of Archaeology, and the couple have two children. The oldest had to move straight to secondary school in England because children there spend a shorter amount of time at primary school. And now there's Brexit, which will make travelling between Great Britain and the Netherlands that bit more complicated. But the children have settled in, it's a nice place to live and Van Broekhoven is enjoying herself. And yes, the reserved communication style of our neighbours across the Channel can take some getting used to. 'Belgians have it too, but I've gone Dutch by now. I like directness. When I first arrived in England, I often ended up wondering what people really meant. The flip side is that people in England aren't as forthright with each other.'
Sometimes life happens
At the end of the interview, I ask Van Broekhoven if there's anything she wants to add. She says: 'My story may seem like one long success story, but that's by no means the case. It's a story of ups and downs. 'When I was doing my PhD research in Mexico, I had really bad RSI for a year and a half. And there are two careers in our family, which can be very demanding, for both of us. But I think you learn most from the downs and you find out what's important: your family and your friends who support you. It also makes you more understanding as a manager: sometimes life happens, and that's OK.'
Text: Corine Hendriks
Banner photo: Laura Van Broekhoven in the Pitt Rivers Museum (foto ©John Cairns).
Mail the editors