Angels for sale: retrieving looted cultural property
The illicit trade in stolen cultural property is booming. Countless works of art and antiquities will be lost if we don't do more to stop this. This is what experts warned at a Leiden Global congress at the National Museum of Antiquities.
'Looting and stealing cultural property is nothing new. The difference is that nowadays it's on an industrial scale,' said Willy Bruggeman, former deputy director of Europol. The speakers at the seminar at the National Museum of Antiquities on 23 January all expressed their deep concern. In Syria, Afghanistan, Mali, Nigeria and Northern Cyprus to name but a few, sacred places such as churches, temples and graveyards are being looted on a large scale. 'A conscious strategy,' said Bruggeman. The sacred places are destroyed to wipe out the identity and break the morale of the local population, and the stolen art and artefacts are sold. By terrorists, for instance, who use the proceeds to buy weapons, Bruggeman added.
Restitution of stolen cultural property
Cypriot cultural activist Tasoula Hadjitofi spoke about the dramatic developments in her homeland of Cyprus. After Turkish military forces had occupied the northern part of Cyprus in 1974, hundreds of mediaeval Greek Orthodox churches and graveyards were looted. 'They destroyed our sacred houses and stole our identity.' Carved angels, unique icons and mosaics dating back centuries were hacked away and sold to hotels, private collectors and museums all around the world. With her Walk of Truth organisation Hadjitofi, who lives in the Netherlands, has been hunting down stolen cultural property for the last 30 years. In her book The Icon Hunter (2017) she explains how, in the face of intimidation and corruption, she was able to track down hundreds of objects.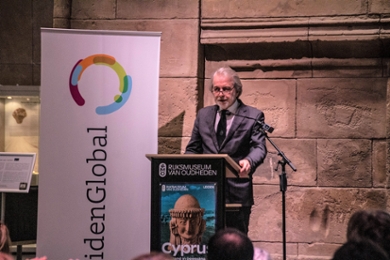 EU has to honour agreements
'What is the best way to fight this rogue trade?' asked moderator Pieter Ter Keurs, Professor of Museums, Collections and Society at Leiden University and Chair of LeidenGlobal. Bruggeman pointed out that there are various international guidelines such as the UNESCO Convention on the Illicit Trafficking of Cultural Property. 'But the agreements are not being honoured and the European member states have to work together more.' Bruggeman listed alarming figures: according to a report from 2017 over 3.7 billion dollars of stolen cultural heritage is trafficked every year and around 70% of this trafficking is in Europe. Leiden archaeologist Bleda Düring spoke about his experience of excavations on Cyprus. He noted that artefacts from archaeological sites often disappear onto the black market.
Misuse of databases
Large databases with information about stolen artefacts, such as the London Database, are supposed to ensure that potential buyers check first to see if the object that they covet is not on the blacklist. But these databases can also be 'misused,' said Bruggeman. They are by no means complete and buyers can easily justify their purchase by saying that the object is not labelled as stolen because it doesn't appear on the blacklist. Traders nowadays have to show how they acquired the objects they are selling. 'But they are very creative at inventing provenance,' said Ter Keurs.
Be a crime watcher
Another question is how scrupulous museums are about purchases. Lucas Petit, Head of Collections and Research at the National Museum of Antiquities, explained how his museum goes about this. They do a thorough investigation of the provenance of cultural property that is offered and discuss the matter with the countries of origin and the police. But Petit agrees that much more needs to be done to tackle the illicit trade and that more help is needed. Hadjitofi ended the symposium with a moral appeal to the room: 'We can't fight this alone. Be a crime watcher too!'
Banner photo: Detail of the St Mark mosaic from the Panagia Kanakaria church. This sixth-century mosaic was stolen from Cyprus in 1974 and found by a Dutch art detective who handed it over to the Cypriot Embassy in The Hague in 2018.

Text: Linda van Putten
Mail the editors