Exhibition Herstory: Leiden's Leading Ladies in the Oude UB
In all the 444 years since Leiden University was founded, almost nothing has been written about women at the University. That's why a group of 25 female students have prepared the exhibition Herstory: Leiden's Leading Ladies. University history through women's eyes. Now open to the public in the Oude UB.
Barred from the lecture hall
These days it's perfectly normal for women to study and have a career, but that has not always been the case. This exhibition deconstructs the history of Leiden University from a female perspective. 'The first female students that came to Leiden in 1873 to study Medicine soon left because a male professor wouldn't allow them in his lectures, even though he was teaching gynaecology, a typically female subject', Arts & Culture master's student Jasmin Hangartner explains. 'The first women were only admitted in 1878 and were allowed to take exams, but many of them chose to attend lectures as a guest, mainly for personal education. This meant that they did not take exams and therefore could not graduate'. Fortunately, a lot has changed since then.
Card dating back to January 1941 that says: 'Dear Miss, I hereby inform you that the Association of Female Students in Leiden, of which You were a member, has been dissolved and is forbidden. Continuing the Association is punishable, for which the board is held responsible. On behalf of the former board, N. K. M. de Leeuw.'
Untold stories
'There are so many interesting stories to tell about women at Leiden University, but people just don't know about them,' says Jasmin. 'Yes, like the commemorative stone in the University Library,' lecturer Nynke comments. 'It's a tribute to the female library staff members who died in the Second World War, including Caroline van Loen [web page in Dutch], who is also featured in the exhibition. I've worked in the library for years, so I've walked past the stone so many times, but I never knew the full story behind it.' Another story is that of Lizzy van Dorp, a student from Leiden who ended up becoming a politician in 1922, three years after women gained the right to vote in the Netherlands. There's also a promotional poster from 1903 of the first female Law student, which the students found in the Atria institute on gender equality and women's history in Amsterdam.
Women unite
'What I found so extraordinary, and something I also noticed in the exhibition, is that women have always joined forces,' Nynke says. 'Take the wives of the Leiden professors, for instance, who already came together in 1913, or the feminist movement in the 70s. This phenomenon is still relevant today: four female lecturers have united under the name Athena's Angels to promote women's interests in academia. Also MILA - a gathering for women of colour in and around Leiden University, organised by STAR - is a great example.' The position of women is a social issue that is still very current. The exhibition addresses all the women of the university, both in front of and behind the scenes, past and present, because they have made the university what it is today.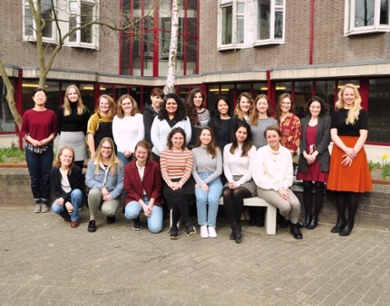 A diverse range of items
The stories are told through a diverse range of items: lapel pins, cups and make-up as well as the traditional books, newspapers and photographs. Women who are currently employed at the university were also asked to lend items that have special meaning to them. They also told something about their work. 'You can expect to learn about Leiden University from a perspective that you won't have seen before, or only rarely,' Jasmin explains. Nynke adds: 'And maybe some of the women from the past can serve as role models for today's women at our university.' A fine goal.
Written by: Lieselotte van de Ven
Photos: Julia Nolet
Send an e-mail to the online editors