Fieldwork campaign
Jebel Qurma Archaeological Landscape Project
The project seeks to come to an understanding of the archaeology of the desert and the ways in which its inhabitants engaged with their constraint, marginal environments through time. It compares and interprets site distribution and community organisation over a long time scale and across several different environments. This is done in order to understand not just the ecological context of local human activity, but also the complex interplay between natural and anthropogenic factors in shaping long-term trends in regional landscape development.
Duration

2012 - 2022

Contact

Funding

Faculty of Archaeology, Leiden University

Netherlands Organisation for Scientific Research (NWO)

Leiden University Fund (LUF) / Byvanck

Jordan Oil Shale Company (JOSCo)

Partners
The Jebel Qurma Archaeological Landscape Project aims to study the extraordinary archaeological heritage in Jordan's Black Desert over a long time scale and across several different environments.
Project description
Leiden University and its Faculty of Archaeology has an established tradition of ground-breaking archaeological research in the Near East and has carried out numerous pioneering projects in Syria, Jordan, Israel/Palestine, Iraq, Turkey, Cyprus, Egypt and Oman. The multi-disciplinary and inter-institutional character of the Jebel Qurma Archaeological Landscape Project illustrates Leiden University's commitment to long-standing links and relationship building with institutes at national and international levels.
Archaeology of the Black Desert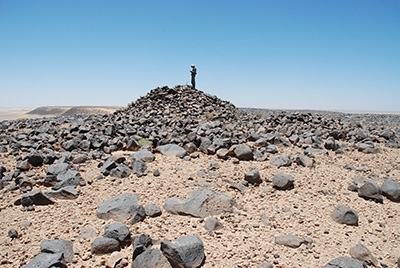 Burial cairn from the Safaitic period, dated to the 2nd/3rd century AD
Archaeological research in Jordan has focussed predominantly on the eminent Jordan valley and its adjacent countryside, where favourable ecological conditions facilitated both dry farming and irrigation agriculture in the past and where early complex societies with large mounded settlement sites came into being. In stark contrast, Jordan's extensive basalt-strewn northeastern desert (or Black Desert) has attracted very little archaeological attention so far. From an archaeological perspective, the vast basalt expanse is still one of the most poorly known parts of Jordan in particular and the Near East in general. The Jebel Qurma Archaeological Landscape Project aims to change this picture: it is a multi-disciplinary, multi-period research project comprising survey and excavation in the basalt desert, with both archaeological and palaeo-environmental dimensions.
Fieldwork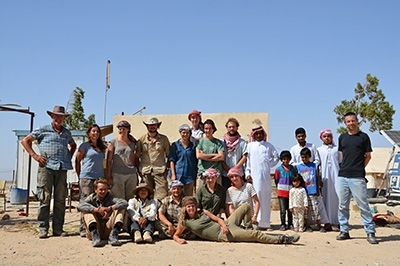 Team 2014
An initial assessment of satellite imagery, aerial photographs at varying resolutions and field survey results from 2012 onwards revealed hundreds of archaeological sites of a highly varied nature and date. The investigations confirmed the presence of prehistoric settlements and dwellings, hunting installations ('desert kites'), hundreds of funerary monuments and cairns, modern bedouin campsites, as well as a rich corpus of (pre-)Islamic inscriptions and petroglyphs.
Preliminary results
Our recent excavations of several of these structures, ranging from a PPNB dwelling to Islamic stone-walled enclosures, and subsequent radiocarbon dating of occupational layers in these installations, help in establishing a continuous chronological framework for the region. The new data demonstrate considerable diversity in site layout as well as clear shifts in patterns of habitation and locational preferences through time. These new insights already require a re-evaluation of current thoughts on settlement dynamics and community organization in the basaltic uplands of north-eastern Jordan.
Future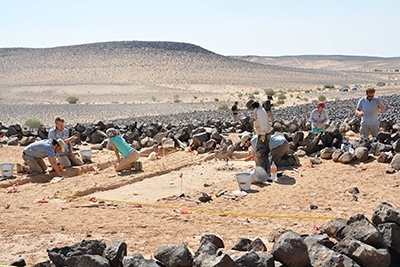 Excavations (2014) at the Early Islamic site of QUR-11
The Jebel Qurma Archaeological Landscape Project is designed as a long-term research project in Jordan's north-eastern desert, with yearly campaigns of fieldwork in the region. The surveys and excavations take place each year between early May and mid-July.
An important spin-off of the Jebel Qurma project is another research project, recently awarded to Prof. dr. Peter Akkermans and Dr. Ahmad Al-Jallad by the Netherlands Organisation for Scientific Research (NWO): 'Landscapes of Survival: Pastoralist Societies, Rock Art and Literacy in Jordan's Black Desert, c. 1000 BC to 500 AD'.

This multidisciplinary 4-years research programme, which started in April 2014, aims to bring the rich, new datasets (settlements, burials, rock-art, inscriptions) in a single interpretive framework, which has not been done before. It focuses on the social, political, economic and ideological strategies which allowed the local peoples to successfully exploit their inherently marginal landscapes between 1000 BC and 500 AD. The programme investigates pastoralist lifeways and the treatment of the dead in the desert, the role of rock-art in signing the landscape, and the implications of widespread literacy among the local peoples.De Archeologie van de Zwarte Woestijn: Jebel Qurma in Noordoost-Jordanië
Connection with other research