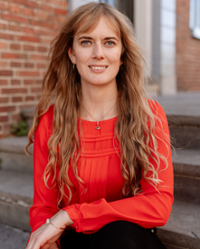 Nathalie Brusgaard
Assistant professor
Name

Dr. N.Ø. Brusgaard

Telephone

E-mail

ORCID iD
Nathalie Brusgaard is an Assistant professor at the Faculty of Archaeology.
Office days
Monday to Thursday
Research
Nathalie Brusgaard is Assistant Professor in European Prehistory. Nathalie is a specialist in human-animal relationships in prehistory. Her research focuses on the Mesolithic-Neolithic transition and how the emergence of farming impacted the relationship between humans and animals. Her interests include both animal domestication and wild fauna. Nathalie also has a broad interest in the development of multispecies relationships over time in prehistory, and her current projects include research on beavers, elk, and cattle.

Nathalie's work is interdisciplinary in nature, sitting at the intersection of archaeology, human-animal studies, and ecology. Her research employs diverse methods and sources, including zooarchaeology, stable isotope analysis, and iconography. Nathalie is a passionate science communicator, and her research endeavours to use deep-time perspectives on the human-animal relationship to inform current issues such as biodiversity loss and rewilding. She is an editor for the popular science magazine Zoogdier ('Mammal').

Nathalie is also a keen fieldwork archaeologist with experience in northern Europe, the Middle East, and the US. She is currently the Associate Director and zooarchaeologist of the Girdi Matrab Archaeological Project in Iraqi Kurdistan.
Teaching activities
Nathalie teaches courses on Dutch and European prehistory at undergraduate and graduate levels and provides specialist lectures in zooarchaeology and stable isotope analysis. Nathalie is open to supervision and internships on any of the many topics she's interested in.
Curriculum vitae
Nathalie Brusgaard has previously held a Marie Sklodowska-Curie Actions Postdoctoral Fellowship at Aarhus University (Denmark) for her project 'When Keystone Species Converge', a transdisciplinary study of human-beaver interactions in Atlantic northwest Europe. She was a postdoctoral researcher at the University of Groningen (the Netherlands) in a project on the emergency of cattle and pig husbandry in the Netherlands. Nathalie obtained her PhD from Leiden University (2019) for her study of nomadic pastoralist rock art and camel symbolism in Jordan and her MA from Leiden University (2019, summa cum laude) for her study of the social significance of cattle in the European Bronze Age. Nathalie has also worked at the Dutch National Museum of Antiquities.
Assistant professor
Faculteit Archeologie
World Archaeology
Europese Prehistorie
Work address
Van Steenis
Einsteinweg 2
2333 CC Leiden
Room number A1.03
Contact
No relevant ancillary activities