Latin American diplomats come together at Wijnhaven
Every year diplomatic representatives of Latin American countries, researchers and students come together during a conference of the GRULAC region group. This year different researchers talked about their work during a visit to the Faculty of Governance and Global Affairs in The Hague.
'These GRULAC meetings have become an important tradition,' commented Rector Magnificus Carel Stolker after the word of welcome by dean Erwin Muller. 'We attach great importance to our international partnerships, and Latin America is one of Leiden University's focus regions [see box, Ed.]. We have partnerships with 48 partner universities from Latin America, and last year 138 students and 139 PhD students from the region came to Leiden University. Today we want to show the benefits of this collaboration.'
Microplastics on the Antilles
Environmental scientist Thijs Bosker talked about his project to measure the quantity and spread of microplastics. He does his research on four islands of the Lesser Antilles, including Sint-Maarten and Sint-Eustatius. As part of the research, his students collected sand samples from the beaches on the islands. Bosker learned from these samples that a volume of sand the size of an expresso coffee cup contains 25 to 50 microplastics. There also seems to be a link between human presence (tourism, population density) and the amount of plastics. Bosker: 'This is part of a larger citizen science project to gain a better understanding of the spread of microplastics. I work in this project with colleagues from the University of Saõ Paulo.' Leiden University has had a partnership agreement with the University of Saõ Paulo since 2016.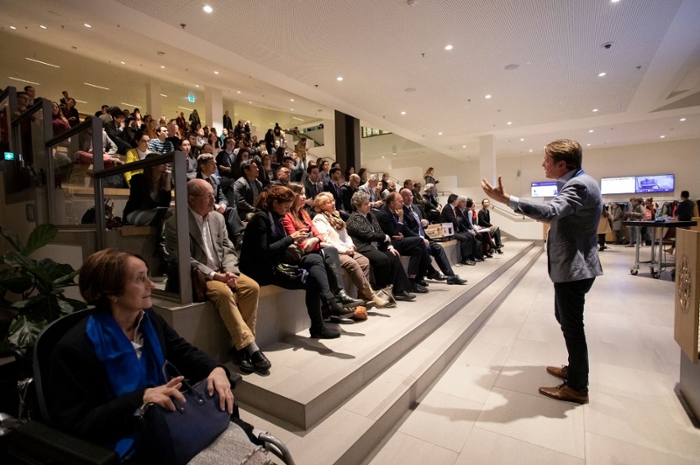 Language and citizenship of the native population
Two other researchers from Leiden University College (LUC) talked about their research on native groups in Mexico and Chile. Linguist Cynthia Groff, for example, conducts research among the Purépecha, a native people from Michoacán in Mexico, on bilingualism at schools. She visited two schools that teach in both Spanish and Purépecha. Her colleague Daniela Vicherat Mattar studied the meaning of citizenship for the Mapuche people in her native country Chile.
The state of the Brazilian economy
The GRULAC meeting was also the opportunity for the official presentation of the Oxford Handbook of the Brazilian Economy, a weighty reference work compiled by Professor of Brazil Studies Edmund Amann (Leiden University), Carlos Azzoni (University of Saõ Paulo) and Werner Baer (University of Illinois). In this book, the authors address all the possible aspects of the Brazilian economy: from the country's economic history to the macro-economy, and from its position in world trade to social inequality. 'In this work, the authors do not shy away from controversial issues,' Patricio Silva, Leiden professor of Modern Latin American History, reflected. 'The recent corruption scandals are dealt with at length.'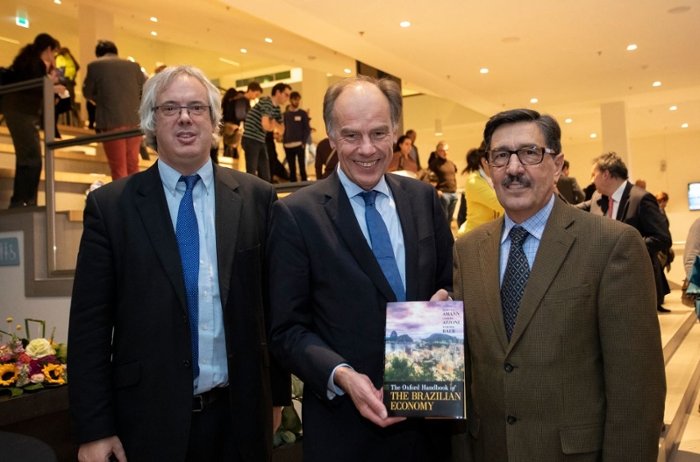 Marianne Wiesebron
Rector Magnificus Carel Stolker addressed a special word of thanks to Marianne Wiesebron, who, as regional coordinator for Latin America, was the driving force behind the GRULAC meetings in Leiden. She was involved in a serious accident a few months ago, but was making a good recovery and was therefore able to attend the meeting. 'It is a miracle that you are sitting here today,' said Stolker. 'Your strength and determination are an example to all of us.' In the meantime, Mara Constantinescu is taking over Marianne's tasks.
Text: Merijn van Nuland
Images: Arash Nikkhah
Mail the editors
Focus area Latin America
Latin America has been one of the focus areas of Leiden University since 2014, together with Indonesia and China. The University has a long tradition of knowledge on this region. Leiden archaeologists and linguists, for example, have extensive knowledge of the indigenous cultures and languages of the continent. There are also many exchanges with the region in the field of social sciences, medicine and natural sciences. In recent years, delegations from Leiden University have made visits to Mexico, Brazil and Chile.